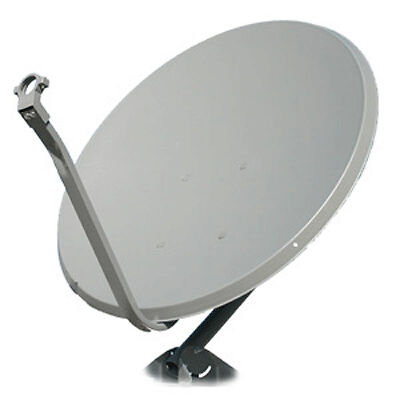 To watch satellite television, a satellite dish is needed in order to receive the digital signals. Satellite dishes are purchased from a variety of different locations. Many high street electronics or television stores stock a selection of satellite dishes. They are also found online at many different websites, and eBay has a wide selection of both new and used satellite dishes to suit every budget and requirement. eBay also offers satellite dishes for all of the many digital satellite services which are currently available. There are currently free and pay-to-watch satellite services available, but even if the free service is used, a correctly installed, configured, and working satellite dish is required to receive the signal.
Because of the many different satellite service providers and the wide variety of satellite dishes available, there are a few details that should be considered when buying a new satellite dish. Satellite compatibility, size, material, and even colour are a few facts that need to be considered when consumers are in the market for a new satellite dish.
Satellite Service Providers
There are two main satellite service providers in the UK, Sky, which is a subscription-based service, and Freesat, which is a free service. Although there are many satellite dishes that are universal and work with both providers, compatibility is something that should be taken into consideration before buying a new satellite dish.
Satellite Dish Sizes
Typically there are three different satellite dish sizes, and each one works a little differently. When purchasing a satellite dish, buyers should remember that the larger the dish size, the narrower its focal angle is. Geographic location is also something which should be considered when deciding what size satellite dish to purchase.
| Satellite Dish Size | Recommended Location |
| --- | --- |
| 53 cm Minidish | Anywhere south of Leeds |
| 50 cm satellite dish | Anywhere in the UK |
| 60 cm satellite dish | Anywhere in the UK |
While there are a few other satellite dish sizes, the three sizes listed above are the most common and standard sizes. Buyers should do additional research if necessary to make a final decision on the satellite dish size they want.
Satellite Dish Materials
There are many different materials used in the manufacturing of satellite dishes, and most materials have some advantages and disadvantages. Most satellite dishes are made out of aluminium, plastic and mesh, or steel. Mesh dishes and perforated dishes are also available.
Plastic and Mesh Dishes
Plastic and mesh satellite dishes are actually made out of very thin strands of wire encased in either fibreglass or plastic with resin. Satellite dishes made out of this type of material are typically a little more expensive, but they last a long time, as they do not rust. If the wires are close enough together, this type of dish has great microwave mirror properties. One manufacturer, Metronic, makes a clear plastic and mesh satellite dish which is cosmetically appealing to some customers.
Steel Dishes
Steel is a very inexpensive material, but steel satellite dishes rust unless they are well protected from the elements. Steel satellite dishes generally have very good microwave mirror properties.
Aluminium Dishes
Aluminium is an expensive material, which means that aluminium satellite dishes are a little more expensive than those made of steel. However, aluminium is much easier to form into the correct shape and does not rust, so these satellite dishes last much longer than steel dishes. Salt water corrodes aluminium satellite dishes unless they are well protected, so geographic location is something that should be considered before purchasing this type of dish. Aluminium satellite dishes have great microwave mirror properties.
All Mesh Dishes
All mesh satellite dishes are made with an open wire structure. This type of satellite dish is usually suitable for C-band operations, but is not suitable for Ku-band.
Perforated Dishes
Perforated satellite dishes are made from a solid sheet with hundreds of small holes punched into it. This type of satellite dish is easy to make and often looks much better than a solid dish. While a perforated satellite dish has good microwave mirror properties, it is not usually quite as good as a solid dish.
Painting a Satellite Dish
Many consumers do not like the common grey colour of most satellite dishes. However, they should not let the colour influence their buying decision, as all satellite dishes can be painted using any colour. In fact, painting a satellite dish helps to protect it from corrosion, and when the correct colour is used, the paint sometimes helps the dish blend into its background and it become less noticeable. When painting a satellite dish, the entire dish, including the LNB and the cable can be painted. The only part that should not be painted is the LNB cap which faces the dish.
Before painting a satellite dish, users should check it for damage and repair anything found, and they should also check for missing parts and replace them. Then they should give the satellite dish a couple of coats of paint. If possible, white is best avoided, as it reflects the sunlight to efficiently and it could melt the LNB cap. Instead, a darker colour and a paint with a matt finish rather than a gloss finish is best
Installation Information
There are two main types of satellite dishes: those designed to receive signals from one satellite and those designed to receive signals from multiple satellites. Which type of dish is best usually depends on geographical location, and this is something that potential buyers should take into consideration before buying a new satellite dish.
Most satellite dishes are attached to either the wall of buildings or to the roof of buildings . It is advisable to check with the local council to ensure that putting up a new satellite dish complies with any rules, regulations, and restrictions before purchasing and installing the dish.
Many consumers hire an installer to set up the satellite dish. This is because the dish has to have a clear line of sight to the satellite or satellites in order for it to work correctly. While it is possible for anyone to do this, it can be extremely frustrating and time consuming. If the installer sets the dish in an undesirable location, users should ask the installer if it is possible to move it without loosing the signal.
The satellite dish is not the only item needed in order to receive digital satellite signals. A set-top box which decodes the signals is also needed. In addition, most of the channels available with digital satellite services are also available with digital cable, so users should be sure to check the options in their geographic location before committing to a specific service.
Portable Satellite Dishes
Portable satellite dish equipment is readily available for use while on holiday in a camper or motorhome. Using a portable satellite dish allows users to watch television as they do at home.
In order to use a portable satellite dish on vacation, a free-to-air service is needed. This service is available via both Sky and Freesat and needs no contract or subscription. This service also includes local regional stations such as ITV and BBC. Setting up a portable satellite dish in a motorhome or camper is quite easy, and most portable satellite dishes come with detailed instructions to help with installation and setup.
Portable Satellite Dish Accessories
When purchasing a portable satellite dish, there are also many different accessories available. Some of the available accessories include mobile digital receivers, extra flat window leads, tripods, and sky satellite dishes.
Buying a New Satellite Dish on eBay
While you can buy a new satellite dish locally at many television or electronic stores, you can also find a wide variety of new satellite dishes available on eBay. When shopping on eBay, begin your search by simply typing "satellite dish" into the search bar. The resulting page gives you a selection of many different satellite dishes and satellite dish kits, which include all necessary hardware and some satellite dish accessories.
If you are looking for a certain type of satellite dish, then you can type some more specific and descriptive words into the search bar. For example, if you are looking for a portable satellite dish for your motorhome, type "portable satellite dish" into the search bar. Once you have searched for the appropriate items, you can refine your search further by using the menu to pick categories, condition, location, and many other options.
Buying with Confidence
When purchasing a new satellite dish from eBay, make sure that you completely read the description to ensure that the item you are interested in meets your needs. If you find that information is missing or you still have questions, contact the seller directly by going to his or her member profile and clicking on the contact link. It is also a good idea to check the seller's feedback located in the seller information box to ensure that you are purchasing from a reputable source.
Conclusion
There are many different facts that need to be taken into consideration when buying a new satellite dish. The main consideration should be location. Some satellite dishes do not work well in Northern areas, and some satellite dishes are intended to be portable and used with campers or motorhomes.
The next thing that needs to be considered is construction materials. There are many different types of satellite dishes, and some may look much nicer than others, and some are made out of materials that do not rust, corrode, or damage easily. Remember, however, the colour of the dish is not particularly important as any satellite dish can be painted to match the building it is attached to. When purchasing a satellite dish, also remember that you have to get all of the hardware needed to attach it to a wall or roof. If you do not plan on attaching it to your home, you still need something for it to stand on, such as a tripod.
Regardless of what type of satellite dish you are looking for and what accessories are needed, eBay has a wide selection of satellite dishes to choose from, allowing you to find the perfect dish for your specific needs.