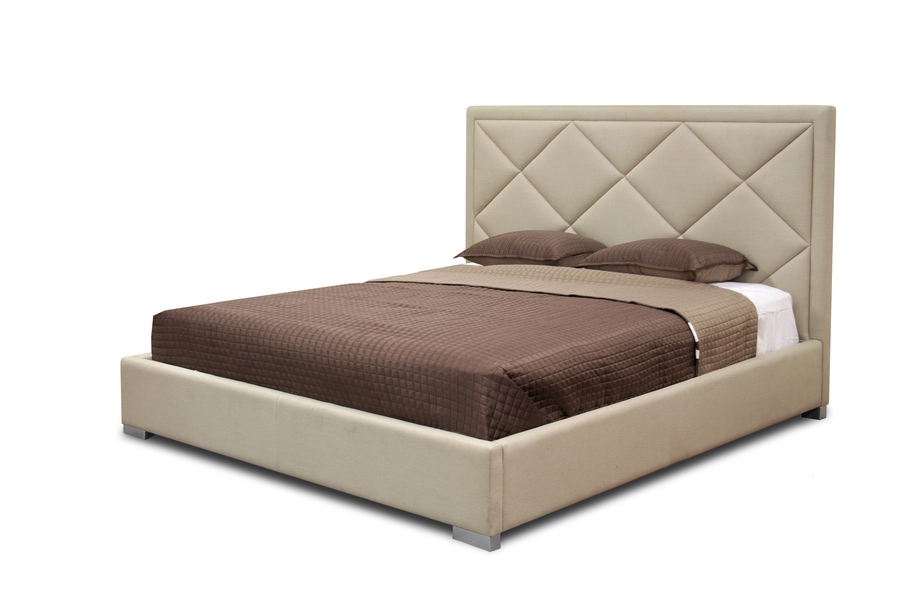 One of the key ways of differentiating a bed is by its size, and the right size can depend on a number of factors including the people who will use the bed and the space in the room. A number of sizes are available; with two of the largest being the king size and the super king size. A wide range of beds and frames can be found on eBay.
Bed Size
The primary difference between the king size and super king size bed is the size.
In the United Kingdom, king size beds measure at 60" by 78", or 5 by 6.5 feet. The king size bed is a larger choice than the standard double bed, which measure 54" × 75", or 4 by 6.25 feet.
King size beds are a popular choice among couples who share a bed, but prefer to have extra space during the night, or those who simply prefer to have a great deal of space to spread out in.
The super king size bed is the largest bed widely available, and only the emperor size is larger. In the UK, super king size beds measure at 72" x 78", or 6 by 6.5 feet.
The additional space of a super king size bed offers a great deal of room for those sleeping in it, and can be a popular choice for those who often share a bed with their children, or even pets.
When buying a large bed, it is key to ensure that the bedroom has enough space for it. Ensure that the bed will be easily accessible, and leave enough room around between it and the walls, or other items of furniture.
While larger beds bring many benefits, items such as mattresses and duvets can cost more for large beds, due to the additional material that needs to be used.
Bed Materials
Both king size and super king size beds are available in a range of materials. These different materials offer different characteristics to a bed, and the material used is an important characteristic of a bed to consider.
| | |
| --- | --- |
| Solid Wood | Solid wood is a widely popular material for use in beds. The appearance of a solid wood frame may depend heavily upon the type of the wood. Furthermore, different treatments of wood, such as staining, can also change the appearance. Wood beds are available in many different styles, and can range greatly in price. |
| Wood Veneer | Wood veneer beds are often less expensive than those made of solid wood, and are designed to offer a similar appearance. This type of bed may not last as long as others, as the veneer can begin to peel over time. |
| Metal | Metal beds are widely available, and can be made out of many different types of metal. These beds are not only among the most durable, but are also some of the more affordable beds available. |
| Leather | Leather beds are widely considered desirable due to their look and texture. However, leather beds can be very expensive, and difficult to clean. |
| Faux Leather | Faux leather bed frames offer a similar look and feel to real leather beds, but at a reduced price. Faux leather is also generally easier to clean and maintain than real leather. |
Mattress Types
There are a number of different mattress types which are widely used, and both are readily available in both king size and super king sized form.
| | |
| --- | --- |
| Open Spring | Open spring mattresses are the most inexpensive option, and are also among the most widely available. The coils in these mattresses can wear out faster than in other types, and if sharing a bed, a partners movements is more likely to affect the other. |
| Pocket Spring | Pocket spring mattresses, like open spring mattresses, make use of metal springs in order to provide comfort. In this type of mattress, the springs are separated into individual fabric pockets. Each coil absorbs a person's weight individually, and, if sharing, a person is less likely to be disturbed by their partner's movements. |
| Memory Foam | Memory foam makes use of a layer of heat sensitive foam, which moulds to the shape of the person's body. These mattresses can help a person to sleep in a good position, and are often considered to be among the more comfortable types of mattress. These mattresses are, however, often more expensive than spring types. |
Bed Type
Beds are available in a variety of designs, which can offer different benefits and features. These designs can offer features such as compact storage space, or an adjustable shape.
Divan

The divan is one of the simpler, and more widely available, types of bed. Some divan bases feature springs in the base, which can offer increase comfort.

Divan beds are also an affordable choice, and king and super king sized divan beds are widely available. However, divan beds often lack much, if any, storage space.

Adjustable Bed

The adjustable bed offers users the ability to alter the shape of the bed itself, which can be highly useful to those with back issues, or other problems. This kind of bed often features an electric mechanism for achieving this.

Storage Bed

Storage beds can feature a wide variety of different materials and styles. The main defining characteristic of a storage bed is its emphasis on convenient and compact storage options, most often involving drawers built into the base of a bed. These beds can be useful if storage is otherwise lacking in a bedroom.

Ottoman

An ottoman bed, much like a storage bed, has a good deal of storage space built into it. The main difference is that the storage is obtainable by lifting up the mattress. Some ottomans feature a gas lift capability, which makes lifting the mattress easier. These beds are, however, often much heavier than other types, and should be avoided if a user intends on moving the bed with regularity.

Bedstead

The classic bed frame,, also referred to as a bedstead, has long been a popular choice of bed type. Unlike divans, which feature a solid base, these beds make use of slats made of wood, metal or sometimes fabric, to rest the mattress on. Bedsteads offer a variety of styles and designs, and can sometimes have a greater focus on looks than other types. The slats may weaken with age, however, and eventually need to be replaced.

TV Bed

TV beds are a much more recently developed type of bed. They are a popular choice for those who like to watch television in bed, and feature a specially designed footboard, which can hold a flat screen television. These stands are often pneumatic, meaning the television can be neatly folded away when not in use. These beds can save space in a room, but when purchasing one the price of the television should also be considered.
Conclusion
There are many different types of bed available, in numerous sizes including king and super king size. The right type and size of bed, can help greatly in getting a good night's sleep, and can also greatly add to the style of a bedroom.. A wide range of beds, as well as bed frames, headboards and mattresses can be found on eBay. Whether you plump for the king or super-size option, your purchase will be secure; as buying with eBay means that the seller will be covered under the eBay Protection Programme.