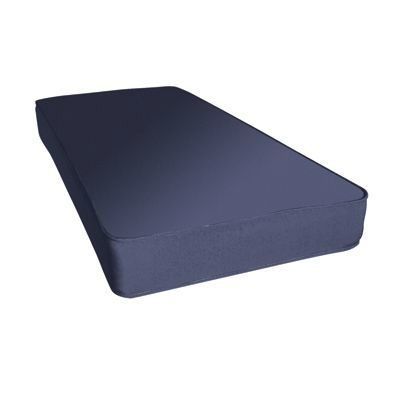 A restful night's sleep is essential in a child's growth and development. Experts recommend that children get anywhere from 8-12 hours of sleep per night, depending on their age of course. Getting a good night's sleep is a critical part of any child's well being. Few people realise that the mattress is the most used piece of furniture in the house, so choosing the right one is very important.

Sleep affects children's attention span, mood, and health, as well as many other factors. More importantly, children's bones are still developing, so choosing a mattress with proper support can help the child avoid potential spinal issues later on in life. The key factor in ensuring the child a restful, sound sleep is selecting a good mattress.
Factors to consider when buying a mattress for kids is size, mattress type, and firmness. Children's mattresses can be purchased in mattress stores as well as some department stores. A wide variety of mattresses for kids can also be purchased on eBay. Buying a children's mattress, consumers should take size, mattress type, and firmness, as well as other factors into account when searching for best mattresses for kids.
Consider Different Mattress Sizes
The chart below shows the different sizes for standard mattresses. Size of mattress is based on personal preference, and special size mattresses, such as small twin or super king, may be more suitable for some individuals, but completely inappropriate for others. The chart below displays the dimensions of each type of bed for kids.
| | | | | | |
| --- | --- | --- | --- | --- | --- |
| Mattress Size | Small Single | Single | Small Double | Double | King |
| Mattress Measurements (cm) | 75 x 190 | 90 x 190 | 120 x 190 | 150 x 200 | 180 x 200 |
Most children graduate from their cribs to a small single bed. Some parents choose to go with toddler Beds, which are smaller beds, with a mattress size similar to the size of a crib mattress. Since a child is constantly growing, most people choose to skip the toddler bed altogether, being that children usually outgrow them fairly quickly. The mattress should always be longer than the person sleeping on it, so the toddler bed has to be replaced long before a single bed.
Twin XL beds may be appropriate if a child outgrows a single bed. Single mattresses also tend to have more support than toddler beds, which is important for the child's growth and development. Some parents choose to go with larger options, such as a small double or double bed. Mattress size depends on personal preference. For children sharing a mattress, a small double or double size mattress is recommended.
Set a Budget
Choosing to replace an old mattress with a brand new mattresses, is a crucial investment due to the potential longevity of the mattress. When buying a quality mattress, it is important to set a budget so that one does not go outside of their price range. Setting a budget ensures choosing a quality mattress without overspending. Many people choose to save up for big purchases, such as mattresses, in order to get the quality and comfort their families deserve, without having to cut expenses in other areas.
Consider Different Mattress Types
One of the most important factors for choosing a mattress is deciding between the different mattress types. Innerspring mattresses are the most common mattress type for children, but more and more people are choosing to go with the comfort of foam mattresses. As long as the mattress is firm and supportive, the choice comes down to personal preference.
Innerspring Mattress
Innerspring mattresses are the most commonly used mattresses for children. This mattress consists of inner spring coils accompanied by a top comfort layer. The inner spring coils provide support, intended to keep the spine in proper alignment. The comfort layer consists of a combination of fibre and foam, helping to cushion the body comfortably. Pillow-top mattresses add additional comfort layers for a softer, more comfortable mattress. The four main types of innerspring mattresses are described below.
Open (Bonnell) Coil Mattresses
Open coil mattresses, also known as Bonnell mattresses, have hourglass shaped coils that intertwine to form a helical design. The design provides solid support on the body, and helps to isolate movements transferred on the mattress. However, open coil mattresses do not tend to last as long as other types of coil mattresses.
Offset Coil Mattresses
Offset coil mattresses have a similar design as open coil mattresses, but have a square head and a more cylindrical design. The square head allows the mattress to contour better to the body. The cylindrical shape also makes the offset coil mattress, a more durable option than other mattresses.
Individually Wrapped (Marshall) Coil Mattresses
Individually wrapped coil mattresses, also known as marshall mattresses, or pocket sprung mattresses, consist of individual cylindrical coils, individually wrapped in single fabric pockets. Keeping the coils separate, ensures that movement of one coil does not affect the other coils around it, reducing movement transfer on the mattress. Individually wrapped coil mattresses are more of an investment than other coil mattresses, but last longer as well.
Continuous Coil Mattresses
Continuous coil mattresses consist of rows of coils made by a single advanced wire. Since the weight is dispersed more evenly among the coils, continuous coil mattresses and provide more support and are stronger than other innerspring mattresses. While the mattress support was once reliant on number of coils, innerspring mattress support today is based on coil gauge, coil count, and the construction of the coils.
Latex Foam Mattresses
Latex foam mattresses are becoming increasingly popular with consumers. Instead of innersprings, latex foam mattresses consist of a latex foam core in order to provide extra support. Latex foam mattresses conform to a child's body, ensuring a good night's sleep. Latex foam mattresses are also recommended for children with frail or weak joints. The unique construction of a latex foam mattress allows the mattress to instantly respond to the body's movements for continuous support and comfort, as well as ensuring proper spinal alignment.
Reducing Body Heat
Latex foam mattresses are extremely durable and breathable, reducing heat buildup found in other mattresses. Latex foam mattresses consist of a combination of natural and artificial latex foam, and are often hypoallergenic, antimicrobial, and dust mite resistant. The downside of latex foam mattresses, is that the firmness of the mattresses can be quite limited.
Memory Foam Mattresses
Memory foam mattresses consist of a visco-elastic memory foam core, providing support and ensuring spinal alignment without the use of traditional innersprings. Memory foam responds to your body temperature by softening with warmth in order to mould to the sleeper's form. Because of this, memory foam mattresses are often much hotter than innerspring or other foam mattress options. Memory foam mattresses are recommended for children who are restless sleepers, and tend to toss and turn throughout the night. Memory foam provides pressure relief to reduce tossing and turning which can often cause the child to wake up. In addition, memory foam significantly reduces motion transfer on the mattress, ensuring a more peaceful slumber.
Different Levels of Memory Foam
Memory foam is one of the most dense and heavy mattresses because of the support it provides. The higher the density level, the more supportive the mattress because it provides a more resilient foam to enhance the level of contouring to the body. A density of around four or five pounds, is ideal for a quality memory foam mattress.
Choosing the Best Mattress for Kids
After understanding the different sizes and types of mattresses, it is easy to make an informed decision. Shopping for a mattress can be difficult without the proper search techniques and research methods. The last few things to consider when purchasing a mattress for kids are durability and customisable options and preferences.
Choose a Durable Mattress
When choosing a child's mattress, durability is one of the most important factors to keep in mind. Expect the mattress to be jumped on, beat up, and spilled on. The more durable the mattress, the longer it lasts. Mattress covers can also be a small investment that helps lengthen the life of your mattress by protecting the mattress from spills, stains, or accidents.
Choose a Firm Mattress
Firm mattresses are essential in the proper growth and development of children. Firm mattresses typically provide more support for the child's growing joints and bones, while also providing excellent support for spinal alignment. Foam mattresses should be evaluated based on density, to ensure a more supportive mattress.
Consider the Child's Needs
Mattresses can be purchased based on special needs aside from size. Children with allergies or asthma, should use synthetic-filled mattresses that might help reduce dust mites and allergens, or choose to go with a hypoallergenic option.
How to Buy the Right Child's Mattress on eBay
Now that you are aware of the most important factors involved in choosing a child's mattress, you can now make an informed decision to ensure that you are purchasing the right mattress for your child. eBay has thousands of children's mattress options that make it easy to stay within your budget. To begin searching for the right mattress, you can search for specific keywords on the eBay homepage. If you already know the size of the mattress you are looking for, but not the type, you can start by typing in "single mattress", and browse the seemingly endless amount of different mattress options for single size beds. eBay makes it easy to stay within your budget by allowing you to set a spending limit to ensure you do not overspend. With eBay's large selection of mattresses, it is easy to find a quality mattress within any budget that can be easily shipped right to your front door.
Conclusion
Investing in the right child's mattress is essential in the child's growth and development. By understanding the different mattress options, and learning what is the best mattress for children, choosing the right option for kids can be a simple task. By taking into consideration size, mattress type, durability, and firmness, it is easy to stay within budget and make an informed purchase decision. Investing in a quality mattress for children can help ensure a restful night's sleep that can subsequently result in more focus at school, and keeping children increasingly healthy.
The right mattress lessens the amount of tossing and turning, reduce pressure on the bones and joints, and ensure a more peaceful sleep for the child. Choosing the right mattress can also have long term effects by reducing the risk of spinal problems. Quality mattresses do not only outlast other mattresses, they support children's growth and development, and ensure children always gets a good night's sleep.