Make sure you are not sold inferior, illegal or unsafe electric shavers. Read this guide to be absolutely sure! See picture's for a better understanding. All electric shavers must legally only be supplied with a shaver cord fitted with a 2pin plug which does not plug directly into you UK 3pin 240V mains socket.
Due to EU regulations all manufacturers must ensure that electric shavers are only supplied with a shaver cord which has a 2pin plug. This is a safety feature. It has been implemented to ensure that we do not plug our shavers directly into the 240V UK mains socket while shaving- causing possible risk of electrocution when water is involved. Most bathrooms are fitted with a 2pin shaver socket as this is the only socket which is legally safe in a bathroom.
Most Hotels in the UK and Europe will only have a shaver socket installed in the bathrooms.
Some of our customers have asked "How do we recharge our shavers without plugging it into the shaver socket?"
This is a valid question because you don't always want to leave your shaver in the bathroom to recharge it.
The solution is to purchase an adaptor to convert the 2pin shaver to 3pin mains plug. This will allow you to recharge your shaver anywhere in your home where a 3pin mains socket is located.
For your own safety, you should Never shave with the shaver cord & adaptor plugged into a 240V mains socket (see picture).

Appliances in the UK are fitted with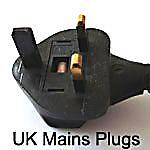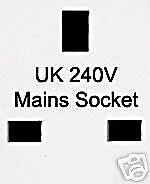 Electric shavers have become increasing popular especially in the last 5 years.
The main
advantages of an electric shaver
are:
Save Time
&
Convenient to use Any Time
compared to a wet shave with a razor blade.
With advancing technology the new electric shavers such as the
Remington r9400 and the Remington r9190
with
titanium blades
achieve a
closer
&
more comfortable shave
compared to previous models.
Click here to see Remington Shavers
Another great feature of these shavers is that they are washable & cordless.
A
washable
shaver is far more user friendly. After each use it is recommended to rinse or wash the razor. It is also best advised to clean the shaver once a week especially the blades with the supplied cleaning brush. This would be to ensure the best performance and a closer comfortable shave.
Rechargeable Cordless shavers
make life a lot easier. Shaving with a cord attached has always been a weak point of the earlier electric shavers. Yet again with developments in technology new models can be fitted with rechargeable batteries and therefore allow cordless use. Remington has gone one step further, the r9400 and r9190 models have a 5min quick charge feature which means you never have to miss out, even if the battery is low!
All new electric shavers are supplied with a 2pin shaver cord which will plug directly into a shaver socket. They usually have a universal voltage which allows them to be used worldwide. For those who purchase an electric shaver for the first time, this can seem slightly odd. In the UK we are used to buying electrical appliances which are supplied with a 3pin mains cord which plugs directly into your 240V mains socket.
At Right Time Right Deal we ensure
all our products are CE approved and safe for you, your family & your home!
All our Electric Shavers are supplied with the legal 2pin shaver cord.
Click here to see Electric Shavers
For a limited period only! We are giving away free gifts with selected Remington Shavers!! So Buy Now to get the best deals!
We hope you have enjoyed reading this guide!
Please do not forget to rate it (see bottom of guide). This will allow us to create better guides for you in the future.
Happy eBaying to all!
The Team
Right Time Right Deal