Wii Controllers Motion Plus and Remote Plus Explained
If you are new to the world of Wii it can be confusing on what controllers you need to buy - this should clear things up. The Wii originally came with the standard Wii Remote as below: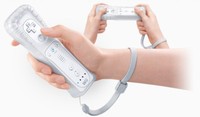 Shown with its wrist strap and silicone protective skin/jacket. This is the remote control type controller you need for all Wii games. With this you can use a "Nunchuck" controller for additional controls and two-handed type games (e.g. boxing). The nunchuck plugs into the bottom of the standard Wii remote like below: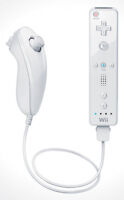 Wii Motion Plus
Nintendo soon after brought out what they call the more accurate "Wii Motion Plus" this is a small box that plugs into the rear of your Wii remote to upgrade it to a Wii motion plus controller. Very simple plug in connection as below: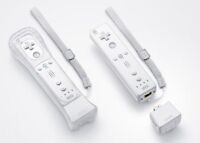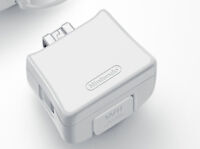 The larger silicone jacket they provided with the motion plus add-on holds it securely in place (it also has a locking switch on the back). You can then plug in your nunchuck controller into the bottom of the motion plug adapter like you would have on the original controller.
Wii Remote Plus
Quite simply put this is just a standard Wii remote with the motion plus feature now built in. Therefore rather than you needing to buy the Wii Remote and then the Motion Plus add-on you can now just buy the new Wii Remote Plus controller. It is the same size as the original Wii remote but now says "Wii Motion Plus INSIDE" in an arc at the bottom. Shown below against a standard Wii motion plus controller.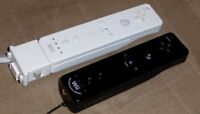 Other Add-ons
You can also buy other attachments like golf club heads, tennis rackets, baseball bat and table tennis bats. These don't actually do anything they are just attachments to the Wii remote and aren't really needed. The one handy one to have is the Wii wheel in which the Wii remote fits inside (Mario Kart wheel shown below)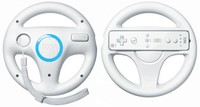 This makes driving games a bit easier to control rather than holding the ends of the remote. The wheels are just moulded plastic and have no electronics in them so any type of Wii wheel can be used (there are lots of copies and different styles).
Wii Classic Controller and Classic Controller Pro

The Classic Controller and Controller Pro are each another expansion for the Wii Remote controller. It connects to the bottom of the Wii Remote controller to allow for wireless connectivity with the Wii console. The shape and style of the Classic Controller is more traditional in design, allowing for ease of use with the classic games available through the Virtual Console section of the Wii Shop Channel. Wii classic shown on left and Classic Pro on right below: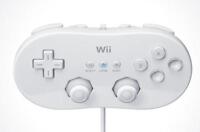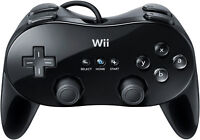 Neither are required for playing normal Wii games.

I hope this has helped!