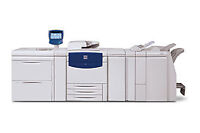 A Powerful Performer. A Solid Value
The Xerox 700 Digital Colour Press is the latest in digital print offering a massive 70 pages per minute in full colour and a paper capacity of 5900 sheets including 1900 sheets of SRA3 as standard. It will feed coated and uncoated stock upto 300gsm and feed SRA3 from all trays, plus duplex upto 220gsm stock. It is a true production printer for every professional printer.
No matter what kind of business you're in, you have to make sound decisions that will grow your business. So before you invest in any new technology, you want to be sure that you are going to get tow things; value for your money in the short term, and return on your investment in the long term.
The Xerox 700 Digital Colour Press reflects everything we have learned helping thousands of printers build successful digital printing businesses. Grow your digital printing business by expanding your revenue opportunities and reducing costs.
Enter the production printing market or boost your in-house colour production with robust capabilities. Reduce costs with the first true production capable printer that makes it easy to get started in digital production printing.
Flexibility to produce a wide variety of applications, on both coated and uncoated paper.
Enable highly efficient, profitable digital printing by integrating with the Xerox.
FreeFlow™ Digital Workflow collection Five colour servers and a wide range of feeding and finishing capabilities provide a perfect fit for your business model.
Exceptional image quality with the highest resolution available – 2400 x 2400 dpi – producing smooth colour sweeps, sharp, high-resolution photographs, crisp, clean text, outstanding gradients and fine detail Automatically print two sided on coated paper up to 220gsm / 80lb cover.
Create high value documents with a smooth, offset-like matte finish, outstanding shadow detail, and superior halftones with low melt Emulsion Aggregation (EA) toner Choose between 5 colour servers with a variety of colour management tools, workflow capabilities and processing speeds to best fit your needs.
Expand your applications to include coated brochures, newsletters, direct mail, manuals and more by adding finishing capabilities that include stacking, multi-position stapling and hole punching, saddle stitch booklet making and folding.
Increase your productivity with a paper capacity as high as 5,900 sheets of 330 x 488 sized paper with optional Oversized High Capacity feeder.
Protect your sensitive data with powerful security features including data encryption, IP filtering, disk overwrite and password protection.