Intel i3 3220 3.3GHz Dual Core AMD Trinity A4 5300 3.4GHz
---
I am an independent seller of computer hardware and Custom PC Builder with over 14 years experience. There are many "Brand Name" PC manufacturers out there, but It's a fact that nothing beats a custom built PC. The reasons for this are as follows:
Brand Name Store Bought PC's
The main problem with the majority of "Brand Name" store bought PC's is that they are mass produced. By this I mean they come off of a production line one after the other and often use cheaper non branded components. All may appear initially ok, that is until you think about upgrading one of your components to improve your machines performance. You see the problem is that very often the components are not able to be upgraded due to two main reasons. One is that the operating system the PC comes with; for example Windows, can be tied to the hardware in the machine in such a way that if you were to swap our a component it would make the system fail and become unusable. The other reason is that the components are sometimes just not of a good enough quality to enable them to be upgraded, for example if you wanted to upgrade to 16GB of RAM then find out your PC's motherboard can only take 8GB of RAM. The bottom line is that in some cases you would have to replace the whole PC to upgrade. Also store bought PC's come with a lot of unnecessary software, which you are never likely to use or need. This software is often boasted about as being worth £100's of pounds, but in reality it is often worthless and just trial, demo or lite versions of the software. Store bought PC's may look good on paper, but you never really know what you are getting.
Custom Built Computers:
Ok, so the thought of a custom built PC may be a daunting thought for some, but in reality it is the best option to ensure you get a high spec per £ ratio and a PC that will be more up to date and future proof than a store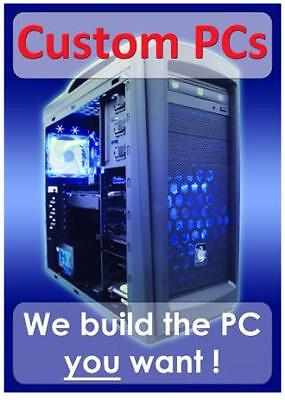 bought PC. I recommend contacting your local computer builder or email me and I would be more than happy to go through the options with you and build you something and then complete the sale through eBay to get it to you fast.
A custom PC is built for you, to your spec for what you plan to use it for. The main categories of PC are Home User PC, Gaming PC and Home Theatre PC. A custom built PC has more expansion options and can be easily upgraded compared to a store bought PC. In my systems I use brand name components such as
Seagate, Maxtor, ASUS, Abit, NVidia, Intel, AMD, Gigabyte, Arctic Cooling, etc, and all components carry a manufacturers warranty as standard and are brand new. With so many case designs to choose from your PC will be more unique and not generic looking like a store bought PC. You can have a clear side window for example that shows the insides of the PC at work, water cooling and UV reactive case fans and case lighting if you wanted it. Buy a custom built PC built for you and you can upgrade easily and inexpensively and it will typically last you longer than a store built PC. Customize the components and operating system to suit your personal needs.
You are best advised to stay away from store bought computers! Buy something that is faster and better performing pound for pound right from the start and that allows you to upgrade as your needs change.
The latest games console and the games themselves are EXPENSIVE, so get a custom build gaming PC and have even more power to play games, plus all the other functions a PC does like surfing the net and so on. The majority of the top titles are released on the PC platform as well as consoles so there is nothing stopping you.

Contact me anytime for a chat about getting a custom built PC that's right for you.