When you need to deliver large amounts of power, 3-phase cables become extremely useful. They deliver stable and reliable current over long distances. Before purchasing 3-phase cables, buyers should consider a number of factors, including the length of the cable, type of insulation, and manufacturer.
Overview of 3-Phase Cables
Users install 3-phase cables to deliver power from 3-phase electrical systems, such as 3-phase generators and 3-phase distribution boards. These are often used to power 3-phase motors and pieces of industrial electrical equipment. The power from 3-phase systems is highly stable, and less likely to overload or result in a short circuit than other types of electrical power. This makes 3-phase cables a good choice for sensitive equipment.
Length of 3-Phase Cables

There is a wide variety of lengths of 3-phase cables. The shortest available is typically 1 metre and the longest cable typically used is 30 metres. However, it is possible to find cables up to 60 metres long, but they are fairly rare. When choosing a 3-phase cable length, ensure that the cable is long enough to connect the power source to the equipment, with at least 5 centimetres spare to reduce strain. It is also important to choose a cable that is not too long. Although 3-phase cables function well when coiled, keeping them wound for long periods of time while they are in use reduces their overall lifespan.
Insulation of 3-Phase Cables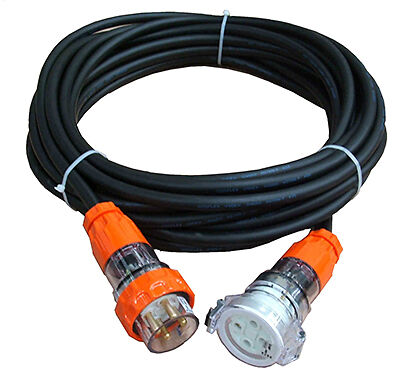 There is a variety of insulation for 3-phase cables in a range of thicknesses. PVC withstands a temperature range of -55 degrees Celsius to 105 degrees Celsius. It is resistant to acid and solvents. Ethylene propylene rubber (EPR) has excellent heat resistance, and works well in temperatures up to 160 degrees Celsius. This material is also highly resistant to oxidation and weathering. Armoured 3-phase cables feature a thin layer of insulation over the electrical components, followed by a layer of wrapped steel wire, and another thicker layer of insulation. These wires are ideal for high traffic areas or underground.
Popular Manufacturers of 3-Phase Cables
Fantastic Illuminations insulates its cables with two layers of flexible rubber. Stage Electrics specialises in 5 metre and 10 metre cables. SWA Cable is a well-known manufacturer of armoured 3-phase cables that are reliable and durable.