hot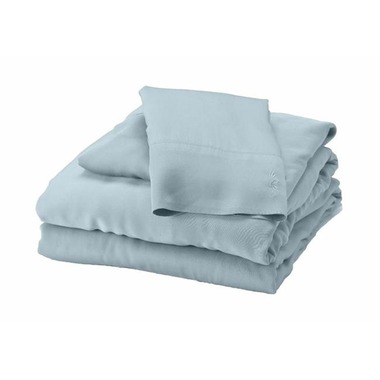 There is little worse than being unable to sleep on a hot summer's night because your bedding is too warm. This is why choosing cool sheets for hot weather is so important.
But finding the right bed linen is easier said than done. Not all sheets are created equal. There are many different types of cool sheets. You need to consider materials and which ones work best for your body. Think of comfort, style, and functionality as you are shopping. It is also important to remember warmth. As much as you may dislike the heat, your body cools when you sleep. Choose sheets that keep you warm enough without you overheating.
Once you know what to look for, you can purchase new sheets from department stores, specialty shops, and online marketplaces such as eBay . A variety of styles, colours, and types are available from both private and commercial sellers. Once you know what to look for, you are soon be able to purchase the ideal sheets for your home.
How to Choose Cool Sheets
There are many different types of sheets in a variety of materials. While it is cosy to curl up in a pile of flannel sheets in the winter months, most people would feel stifled in the summer. The following tips help you find the ideal cool sheets for hot weather.
Natural Fibre
Look for sheets made from 100 per cent natural fibres. Natural fibres have an advantage over man-made materials because they breathe. Better air circulation keeps the air under the sheets from becoming stifling, since people tend to perspire while they sleep. On average, one person can lose up to a litre of moisture during the night. Unlike synthetic fabrics, sheets made from natural fibres are better able to wick moisture away from your body. Natural fibres include silk, bamboo, and specific cotton fabrics such as sateen and jersey.
Thread Count
The thread count indicates the quality and comfort level of the sheets. Thread count refers to the number of threads used per square inch in the making of the fabric. Popular opinion states that the higher the thread count, the softer the sheet. This is only partially true. A good thread count generally ranges from 200 to 800 .
Weight
The weight of the sheets is an important factor to consider. Sateen and silk sheets, for example, are typically light in weight and drape close to the body. This can trap the heat, however, making you even warmer. Cotton, on the other hand, is usually heavier, but breathes better, which means the air is kept away from the body. Keep the weight of the sheets in mind as you consider your options.
Colour
Colour is also important when you are looking for something to cool you down. White sheets and other light colours reflect the light that comes through the windows, hence further reducing another heat source that may be keeping you too warm.
Types of Cool Sheets
Lightweight bed linens allow the air to circulate, keeping you comfortable all night long. However, knowing which fabric to buy can be overwhelming if you are unsure of what to look for. Sheets can be broken down into a few different categories, which are best for staying cool in hot weather.
Cotton Sheets
Cotton sheets are one of the most readily available types. The material is light, and it breathes well. Cotton can be quite luxurious and also comes in several different types of weaves. Three of the most popular are listed below:
Percale Sheets
This is a flat weave with a high thread count, creating a crisp and durable fabric that is finely textured. If you like the feeling of stiff sheets, percale is the ideal option.
Sateen Sheets
Similar in texture to silk, sateen is often chosen as an inexpensive alternative. It is woven with a smooth, shiny finish on one side and a matte finish on the other. Certain types of sateen sheets may contain rayon, which lowers the air circulation, so be sure to check for 100 per cent cotton.
Jersey Sheets
This type of weave allows for good air circulation, remaining cool when it is hot and staying warm when it is cold. Quality jersey sheets are made with 100 per cent Egyptian cotton. They are a good middle ground between sateen and percale.
Cotton sheets are versatile and can be relatively inexpensive, making them one of the most common choices for cool bed linens.
Silk Sheets
Although natural silk sheets are comfortable and regulate the body's temperature well, they can also be a little pricey. As well, it's important to remember that not all silk sheets are created equal. Even though some sheets may look like the real thing, they are often made from a synthetic fabric blend, including nylon and polyester, both of which do not keep you as cool and dry in hot weather as natural fibres do.
Bamboo Sheets
Bamboo may not be your first thought when considering sheets that keep you cool but it is definitely one of the best materials. Many people have compared it to the feeling of cashmere. Bamboo sheets promote good air circulation and can adapt well to extreme temperatures. Bamboo is three times more absorbent than cotton and can dry quickly, allowing you to wake up dry and comfortable no matter how much you perspire. In addition, fabric made from bamboo retains the original plant's antifungal and antimicrobial properties. Furthermore, if you have environmental concerns, bamboo sheets are 100 per cent eco-friendly.
Lightweight Wool Sheets
Many people view wool as a warm fabric but it is actually an insulator, meaning it keeps you warm in cold weather but it also retains cool air in hot weather. Wool absorbs moisture, enabling it to block hot air while absorbing perspiration from the body. It also contains flame-resistant properties which make it a safe option. Standard wool will be too warm, however, so be sure to look for the versions commonly labelled as loose hand-knit wool. To improve your wool sheets' versatility, purchase lightweight wool sheets that can be thrown into a washing machine.
To clearly see the benefits of each type of sheet listed take a look at the following table:
Sheet Type

Benefits

Cotton

Comfortable

Good in both warm and cold weather

Good air circulation

Readily available

Inexpensive

Silk

Luxurious comfort

Remains cool throughout the night

Regulates both hot and cold air

Bamboo

Very soft, comparable to cashmere

Good air circulation

Adapts to extreme temperatures

Absorbs moisture

Antifungal and antimicrobial properties

Lightweight Wool

Insulates against both hot and cold air

Good air circulation

Absorbs moisture

Flame-resistant
The best way to decide which material is right for you is to consider your home, style, and, especially your budget requirements before beginning your shopping experience.
Buying Cool Sheets for Hot Weather on eBay
Once you have considered all your options and made a decision on what you would like to purchase, it is time to start shopping. You can find a large variety of cool sheets for hot weather at department stores, specialty shops and online marketplaces like eBay. Begin your search by typing your keyword phrase into the search box that appears on every page of the site. The results can sometimes be in the hundreds so use one of the filters located on the sidebar to narrow down the listings. You may also want to rearrange the order of the listings by such things as price range or colour.
Once you find the listing you want, click to find pictures, a description, price, and more. Then, click on the seller's name to be taken to their profile. There, you can read what other customers have to say about their purchases, where the seller is located, and what he or she has sold in the past. After you receive your purchase, you can also leave some feedback.
Conclusion
Finding cool sheets for hot weather keeps you comfortable for a better night's sleep. You can purchase a wide variety of sheets that range from natural fibres like cotton and cool silks to fabrics that are specially designed to keep perspiration at bay. Consider different sizes, styles, and colours to best match your home's décor and your personal taste.
Purchasing cool sheets from online department stores and auction sites like eBay opens up the possibilities even further. Being such a broad online community, not only are you able to shop for a wider selection, you may even find retired sheet sets no longer in stock, from brands you love. Or a particular fabric you would not have thought to try otherwise. Remember to first check your bed's size and your bedroom's colour schemes to find the right match. Regardless of the style of your bed, the décor of the room, or your own personal comfort level in relation to room temperature, there are many advantages to purchasing cool sheets for hot weather.