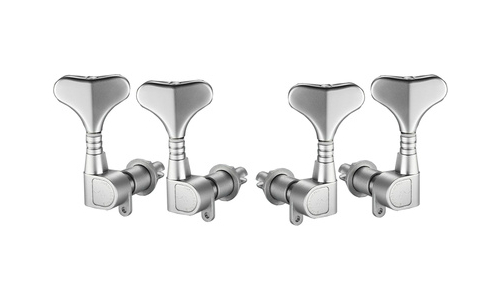 Machine heads play the vital role of enabling the guitarist to tune the instrument, and few things are more frustrating than having machine heads that do not perform well. The reasons for purchasing new or used machine heads are varied. Machine heads can be damaged or simply wear out. Some guitarists are keen to upgrade their guitars to improve both looks and performance, and some enthusiasts may be building a new guitar from scratch. When replacing machine heads, it is sometimes possible to find an exact match, particularly for a well-known brand or model of guitar, but often it is easier to replace all the heads at once. Keeping spare matching machine heads on hand is also a sensible idea for guitarists who may need to change heads often. Spare parts such as screws, bushings, and buttons can also be purchased separately.
Types of Machine Heads
Essentially, any guitar will have one of three types of machine head. Classical, nylon stringed guitars have a standard-sized machine head that is usually to be found complete with a screw on plate. Acoustic, and some electric, guitars typically have bolt on machine heads while other electric and bass guitars may have bushing based machine heads. Within these parameters there are many options available.
Classical Guitar Machine Heads
All adult sized classical guitars will accept the standard size of machine heads. Machine heads for classical guitars typically have a relatively ornate screw on plate and this is the easiest way to replace either one side or the other. Pegs that slot into the neck are also usually included as part of the unit. It is usual for the machine heads to be purchased as a set as different heads on each side can look a little strange. Heads can also be purchased individually and if choosing this option it is probably worth buying an extra set for future use.
| | |
| --- | --- |
| Plastic or resin tuning pegs crown style | Usually finished in ivory or cream. Plate attachments in a variety of finishes. |
| Plastic or resin tuning pegs ornate butterfly style | Normally available in ivory or cream with ornate plate. |
| Chrome tuning pegs with chrome cogs/inserts and metalwork | Usually a choice for Spanish nylon stringed guitars although some classical guitarists also appreciate the aesthetics. |
| Nickel-plated metalwork | Available with plastic, resin, or plated tuning pegs. |
| Chrome-plated metalwork | Usually with crown style tuning pegs. |
| Gold-plated metalwork | Tuning pegs may be gold plated or ivory or white plain or pearlescent. Metalwork is usually ornate carved style. |
| Single screw in heads | Rather than being on a set of three, these heads are attached individually. Usually sold in sets of six but can occasionally be found individually. A variety of designs and finishes are readily available including vintage. |
Machine Heads for Acoustic Guitars
Like classical guitar heads, machine heads for acoustic guitars come in standard fittings of 3 per side or as single heads. Some guitarists may choose to opt for a specialist brand, such as Fender, or search for machine heads specifically made for a particular brand like Gibson or Martin. This is certainly a valid option although there are many machine heads that will suit these guitars in a range of prices and quality.
| | |
| --- | --- |
| 3 per side on chrome-plated metalwork | Usually with resin pegs in white, ivory, or pearl. Black tuning pegs are also available. Occasionally genuine ivory pegs may be found. Chrome pegs may also be used. |
| 3 per side with gold-plated metalwork | Pegs may be resin, plastic, or metal plated. |
| 6 per side on nickel, chrome, or gold plate | Suitable for 12 string acoustic guitars. Buttons/tuning pegs come in a variety of styles and finishes with the classic crown style being the easiest to find. |
| Chrome with coloured buttons | Recommended for the more flamboyant guitarist. Purchase in sets of one colour or individually for a rainbow of creative flamboyance. |
| Individual bushing based heads | Available in chrome, gold, ivory, and other finishes. Chrome is probably the most common available with standard tuning pegs, but other colours and styles can be found including vintage heads for the serious collector. |
| Individual bolt on heads | As with bushing based heads many styles and finishes are available. |
| Spare parts | Useful for replacing damaged heads. Choose to match machine head. |
Machine Heads for Electric Guitars
Whether nickel, black, chrome, or gold, machine heads for electric guitars are readily available to suit any budget and any make or model of electric guitar. Both bolt on and bushing heads can be found in a large range of materials. Quality can vary but machine heads can be found to suit the most modest budget or the most serious guitar collector. Machine heads are normally sold in sets of six. While many machine heads look attractive, it is also important to ensure that the internal gear is of good quality for durability and high performance.
| | |
| --- | --- |
| Chrome set bushing heads | Normally provided with bushings and mounting screws. Suitable for most strat and tele guitars. Tulip, crown, and kidney bean are the most commonly found button shapes, but occasionally other more unusual button shapes can be found. |
| Black finish bushing heads | Supplied with matching bushings and screws. Suitable for modern guitars. A variety of button shapes available. |
| Gold finish bushing heads | Suitable for both modern and older guitars in a variety of button head shapes. |
| Mixed colour machine heads | Gold plated with black buttons, gold with pearl buttons, chrome with black, white, or pearl buttons are just some of the combinations that are available. Choose to suit desired look. |
| Stamped machine heads | Suitable for those who wish to display a known brand of quality. Colours of metalwork and pegs may vary. |
| Vintage machine heads | Often made for brand specific guitars. Some highly attractive collector's items can be found in a variety of styles and colours. Usually made to a high standard. |
| Bushings/ferrules/screws | Spare parts are available in a variety of finishes to suit most machine heads. |
Machine heads for Bass Guitars

By far the most commonly available machine heads for bass guitars are made for a standard four string bass, but machine heads can also be found for five and six string bass guitars as well. While quality can vary, most machine heads that are sold in sets are well made to provide years of fine tuning performance.
| | |
| --- | --- |
| Chrome or nickel heads -4 set | Readily available with a variety of button shapes. |
| Black or black frosted heads -4 set | A variety of shapes and button sizes available |
| Gold heads -4 set | Usually gold plated, often with a copper base. |
| Mixed finish heads -4 set | Complementary metalwork and button finishes suiting a variety of basses and tastes. |
| Single machine heads | Select to match other existing heads on bass. |
| 5 set heads | Available in a variety of finishes for 5 string bass. |
| 6 set heads | Available in a variety of finishes for 6 string bass. |
| Spare parts | Can be used for repair or replacement for aesthetic purposes. |
Finding Guitar Machine Heads on eBay

Machine heads can be found in the guitar category of eBay. To get here, navigate from the All Categories page to Musical Instruments. From the drop-down options listed, click Guitars. Use the type in search button to find machine heads. A brand name can also be typed in the search field. Searchers can also use the bars on the left hand side to narrow search by new or used, guitar type, and brand. It is often useful to browse through broader pages as well as conducting a narrow search as some listings may not be specifically tagged. It may also be useful to search under tuning pegs as well as machine heads. Always read through the listing, and keep an eye out for good shipping deals.
Conclusion

A guitar, of whatever make or style, is an instrument to be proud of. Machine heads are a vital part of the guitar for both performance and good looks. Quality replacements and upgrades are readily available to suit any guitar. Select to suit any style and look desired.