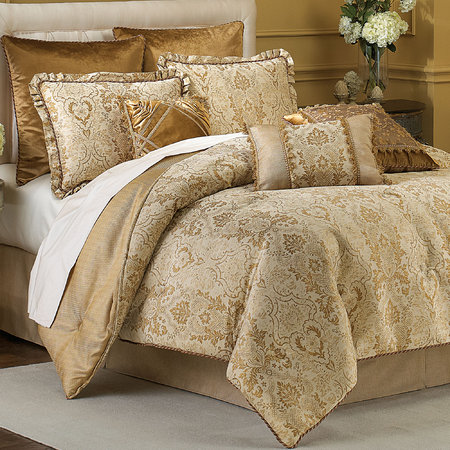 A good night's sleep is important in maintaining health and happiness. Research shows that choosing the right bedding can make the difference between a cheerful "good morning" and a groggy "morning already"?
Bedding refers to the materials laid upon the mattress for warmth, hygiene, and to protect the mattress. Bed clothes, or bedding as it is known today, have been around since 3400 BC when the Egyptian pharaohs moved their beds up off the ground to sleep on a raised surface. Nobility in the Roman Empire stuffed their mattresses with feathers, wool, or hay, and decorated their bedclothes with silver, gold, jewels, bronze, or paint. Bedding during the Renaissance is exactly as you see in movies: Lots of rich fabrics like satin, velvet, and silk on top of fluffy mattresses filled with feathers and straw. The 18th century brought the use of cotton bedding and mattresses, taking the place of hay and feathers. The use of bedding as a fashion accessory is as important as functionality and comfort in many British homes.
How to Take the Measurement of Your Bed
It is important to find the correct measurements to ensure you get the right size bedding. Width of the mattress, length of the mattress, and depth of the mattress are important attributes to measure before purchasing bed linens. If you are considering buying a valance or comforter, then the height from the floor to the top of the mattress and the height from top of bed base to floor are also important measurements.
| UK Bed and Mattress Size | Fitted Sheet | Fitted Sheet Deep | Flat Sheet | Duvet Cover |
| --- | --- | --- | --- | --- |
| Small Double | 120 x 190 x 20cm | 120 x 190 x 26cm | 220 x 260cm | 200 x 200cm |
Fibre Content
Bedding is made from manmade fibres, natural fibres, or a combination of both. The content that is paramount for you depends upon what you are looking for in small double size bedding. Consider the following types of fibres:
Natural Fibres
Natural fibres such as flax, wool, silk, or cotton have subtle irregularities that lend to the natural beauty of the bedding. Their main advantage is their porousness and absorbency, which make natural fibre bed linens adaptive to adjustments in humidity and temperature and ensuring comfort in all sleeping environments. Fabrics made of natural fibres are inclined to wrinkle easier, so they should be promptly removed from the washer and dryer.
Artificial Fibres
Rayon is the primary artificial fibre used in the manufacture of bedding. It is manmade from natural raw materials fabricated from cellulose or plant protein. Bamboo, Modal, and Tencel are some of the most recognisable fabrics derived from artificial fibres. Bedding synthesised from artificial fibres often have the same qualities as natural fibre bedding, but are generally more durable. These linens are also very absorbent, have a soft, silk fingerprint, can be dyed into bright fashionable colours, and have inherent antimicrobial properties. Artificial fibre fabrics tend to shrink when washed, so closely follow the care instructions on the tag.
Synthetics
Synthetic fibre fabrics include acrylic, nylon, and polyester. The key advantages of purchasing linens woven of synthetic fibres are that they tend to be wrinkle resistant and can be dyed in vibrant colours. Linens produced from synthetic fibres are less absorbent and porous than their natural and artificial counterparts, however, which them very uncomfortable in hot, humid conditions.
Blends
Blends are a combination of two or more types of fibres. Frequently, the highest per cent dominates the quality of fabric, but a successful blend will have the best qualities of all fibres used in weaving. An excellent example is cotton linen blend bedding. This bedding exhibits the crisp texture and refined lustre of linen while simultaneously exhibiting cotton's characteristics of less shrinkage and improved strength.
Thread Count
Thread count is the most advertised of all bedding attributes, but is not the best indicator of quality. Higher thread counts use a technique to create double-ply fabrics, which are made up of two threads twisted together. Single-ply fabrics are softer, smoother, and more durable than double-ply; look for this detail when purchasing.
Cotton
Since cotton is most often used in bed linens, it is important to familiarise yourself on the qualities of cotton. The longer the cotton fibre, the better quality of bedding that is produced. Long staple cotton includes Egyptian, Pima, and Sea Island cottons, and produces the highest-quality linens. Materials produced from long staple cotton are valued for their glossiness, suppleness, and smoothness. This cotton is especially durable, which is reflected in its high price. Intermediate staple cotton, used to manufacture lower thread counts, is also of very good quality, but is less supple and lustrous than its higher-quality relative.
Organic cotton is becoming increasingly popular amongst environmentally conscious consumers. It is grown using non-genetically modified cotton with a low impact to the environment. Organic cotton is cultivated in fields that have not been treated with fertiliser for over three years, and is produced according to very strict guidelines. Products carrying the 'organic cotton' label must be at least 95 per cent organic material.
Types of Weave
There are several types of weave that are integral to the durability and price of finished goods. Plain weave is the simplest of fabric weaves, and is used in over 80 per cent of bedding. Examples of this type of fabric include percale, cambric, voile, and gingham. Twill weaves produce strong fabrics with a soft drape, which are generally more expensive than plain weave. This fabric is identified by the diagonal rib or twill line, and may be brushed for extra softness.
Sateen weave is bedding with a thick close texture, usually produced in higher thread counts. The amount of yarn that is exposed to the surface of the fabric gives this lovely fabric its luxurious sheen. Sateen is the most expensive of the primary weaves, due to the complexity of the spinning. The most durable and complex fabric to produce is the patterned weave. Dobby and Jacquard are the two main types of patterned weave, and require the finest quality yarn.
Fabric Finish
When selecting bedding, take into consideration whether any special fabric finishes have been utilised. The three most common finishes are:
Wrinkle Resistance
This finish is used on many cotton fabrics so they require little to no ironing after washing. Wrinkle resistant treatments can reduce porosity and absorbency.
Shrinkage Control
This finish keeps the bedding from shrinking by no more than two per cent. Shrinkage control can make the fabric more durable, but less comfortable and cool.
Mercerising
This finish improves the shape of the individual cotton fibres by adding lustre, strength, and an increased affinity for dyes.
Recognising Quality
There are several discernible tips to use when purchasing bedding that will help you to recognise quality linens. The weave of the fabric should be substantial and uniform. When scratching the surface of the material, the threads shouldn't shift easily, as a shift shows inclination toward developing holes at the seamed edges. Hold a sheet towards the light to show any extraordinarily thick or thin areas. Bedding, where the weave is not consistent, will wear unevenly. Check for powdery residue on the surface of bed linens. This is an indication of oversizing and may be a symptom of poor quality. Vibrant colours should be fresh and unchanging. If there is a crease or fold in the commodity, ensure that the dye has not rubbed off. This is a manifestation of poor dye quality. Printed designs are evenly dyed, with all geometric and symmetrical shapes disseminated at right angles.
Tips for Choosing Fine Linen
You will spend a third of your day sleeping, so it is important to choose bedding that is conducive to excellent rest. The attribute you are seeking will determine the type of fine linen needed for your dream escape.
Attribute Desired

Type of Fine Linen

Cool, crisp, smooth

Plain weave: percale, batiste, voile, or cambric

Soft, silky, luxurious

Sateen

Immediate warmth

Jersey, cotton, or flannel

Natural temperature regulation

Silk, linen, or rayon, made from bamboo

Gentle for sensitive skin

Eco-friendly bedding

Fits extra-thick mattress

Fitted sheet with deep pockets;

oversized comforter

Fits firmly on mattress

Fitted sheet with elastic all the way around
How to Buy Small Double Size Bedding on eBay
Before you begin searching on eBay for small double size bedding, determine the fibre content, thread count, type of weave, and fabric finish you are seeking. Begin your search by plugging in the type of bedding you want, such as "Jersey bed linens". The number of results can be daunting; therefore it is best to narrow your search using one of the qualities you are searching for.
Two key considerations when choosing bed linen are the thread count and the quality of the fibres. Many higher thread counts are less durable than their lower-count, more affordable relatives. Therefore, the old rule of thumb that "more is better" no longer holds true. Quality bedding is made of high-quality cotton fibres woven into a single ply fabric. Using the search terms rayon and cotton will assist you in weeding out undesired attributes.
When purchasing on eBay, it is also an excellent idea to patronise top-rated sellers. These merchants have been vetted by buyers on quality of goods, shipping, and overall buying experience.
Conclusion
Bedding is used as much for a fashion statement as it is for a good night's sleep. From as far back as ancient Egyptian times when nobility decorated their bedding with gold and jewels, bedding is considered a major acquisition that should be thoroughly considered. Your ability to rest depends on the quality of linens on your bed. If you are prone to sweating during the night, then you should choose bedding that breathes and absorbs moisture made of natural fibres. If you desire a sleep experience between cool, crisp sheets, you should choose bedding that is manufactured from cotton.
Taking a measurement of your bed before shopping ensures that you will get linens that fit perfectly. A taller bed with extra-thick mattress looks best with an oversized comforter or duvet to cover its full expanse. Fluffy pillows aid in a comfortable night's sleep, and accessories such as throw pillows make the bedroom an inviting refuge.