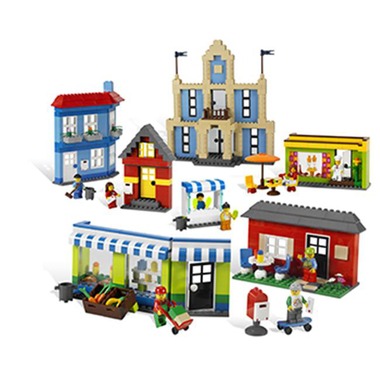 Lego is one of the most recognised and widely use toys for children in the UK and has been for a number of years. In this respect, plenty of parents choose to sell on their Lego models after children simply grow out of playing with them.
eBay is often used as a way of selling on second-hand Lego toys, where the vast amount of models listed can be explored in the same place and potentially found at a more affordable price for the average customer. This guide will look at different models of used Lego and how to go about making a purchase on eBay.
What is Lego?
Quite simply, Lego is a children's construction toy made from a various amount of bricks that can be fitted together to make certain constructions. They range from simple block designs into more advanced models that can resemble humans, vehicles and buildings.
Due to its popularity, it is estimated that over 400 billion Lego bricks have been produced since the mid 20th century. In this sense, the second-hand market is ripe with all sorts of different models to cater the needs of all potential users. Although used primarily by children as a toy, some Lego pieces are bought as collectables by adults and investors aswell.
Below is a table which highlights the different forms of Lego products. They are all compatible with each other in terms of assembly.
| Type of Lego Brick | Description |
| --- | --- |
| Traditional Blocks | The most recognisable Lego pieces come in the shape and form of traditional rectangular and square brick-type blocks. These will make up the foundations of most structural designs. They can range in colour and size. |
| Quatro | The Quatro Lego was a range designed wholly for very young children between the ages of 1-3. They were built to be much larger than normal Lego blocks to make them easier for children these ages to use. Although they were discontinued in 2006, some used models can be still found on eBay. |
| Duplo | Duplo Lego range is again designed to suit younger children up to the age of 5 or 6. Again they are made to be bigger, not only so they are easier to handle but also to reduce the chance of accidental choking. They come in a range of themes such as farmyard animals or Bob the Builder to attract younger users. |
| Technic | Lego Technic is more advanced and technical than other types where the traditional blocks aren't used. It incorporates such features as plastic rods, axles and wheels into the design to make the finished article more interesting to use. Some Technic models even use electric motors to enhance the experience even further. |
Buying Considerations for Used Lego
Before coming to make a purchase then consider what sort of Lego type is needed and who it will be used by. For example, younger children may only benefit from using simple designs such as the Quatro or Duplo designs. As noted previously, these are also safer in the sense they are harder for toddlers to accidently choke on due to their increased size.
Also consider what sorts of pieces are needed. If buying for a child then think about any particular interests they may have. Lego models come in all sorts of different themes which may suit certain interests. Some of these themes include models of castles, pirates, sci-fi and numerous vehicles. Other popular franchises such as Star Wars, Toy Story and Harry Potter have also been developed to increase the appeal of Lego to a wider audience. If the child has an interest in cars and fast vehicles, then these sorts of designs are available on the market for example.
Is the child at the age or have the ability to construct complete models own their own? If so, then look into buying box sets where a degree of skill is needed to complete. Some studies have shown that playing with Lego can increase concentration and problem solving skills that can help with the growing brain prowess of younger children.
Where to Buy Used Lego From
Although made in Denmark in line with where the toy was created, around 97% plus of all Lego products are sold outside of the country. In this sense, this reveals how popular it is all around the world.
If only interested in buying used Lego pieces in particular, then shopping in stores on the high street isn't the most efficient way to approach a purchase. Although some charity or second-hand shops may have some Lego products on offer, the choices available will be nowhere near as vast as can be found on eBay for a whole host of various Lego designs.
Results on eBay can be arranged to only include the used Lego models by selecting the relevant option on the preference menu on the left hand side of the results page. Many of these listings will be available by using the auction facility which eBay offers as a widely used buying format.
Buying Used Lego at Auction on eBay
The auction facility on eBay is one of the website's trademarks. Users will have the chance to purchase their desired item at an indefinite price in competition against other potential buyers. This section will look at how to enter an auction and how to possibly win used Lego for a more affordable price than would be found in the high street or on toy websites. Remember, a lot of Lego items on eBay will be listed as Buy It Now items also which can be useful if after a speedy purchase.
Bring up the auction listings. First of all, to bring up all the relevant listings that are available for auction then type in "Lego" into search bar at the top of any eBay page. Now select the 'Construction Toys and Games' category and finally click on 'Auction' under the 'Buying Format' subsection. The advanced tool can be used to do this also with further search options.
Watch an item. The maximum time an item can be listed on eBay is up to 10 days. If the particular Lego item you are after has an end time for an extended period, it is possible to 'add it to the watch list' which can be found on the items description page. By doing this for numerous Lego listings, then they can all be stored in the same place. This makes it easier to review them and find out their current status without trudging through all the Lego results every time eBay is visited.
Know when to bid. If an item has a few days left to run before it is due to end, then placing a low bid is unlikely to be successful. Other people may be watching the item too remember so placing a bid too early may attract competition and push the price up unnecessarily.
Keep the end date and time noted. The majority of bidding activity happens in the final stages of the auction. Know when the auction is ending so you are in position to place a bid at the most valuable time. Make sure access to eBay is feasible around the time the auction is ending to make sure placing that important final bid is possible.
Set a budget. It may be easy to get too carried away when placing bids for the used Lego item on the eBay auction. Don't let human emotion fall into the bidding process by wanting to win an item just to beat someone else. Set a budget and make this the maximum bid.
Research the seller. When coming to buy a used Lego model then it will be almost certainly be coming from an independent seller. With this in mind, be sure to look at their feedback score and comments. This will give an idea if they are a trustworthy seller or not.
Ask a question. The one advantage of buying second-hand rather than brand new from eBay is that the seller will have most likely used the piece of Lego before. In this sense then asking them about the item can give an experienced and first hand response that may not be available from high street retailers. On the seller's profile click on the 'Contact Member' link on the left hand side of the page.
Is an Auction necessary? A lot of auction listings will often be for second-hand products. In this case, compare the starting price of the auction Lego items to the Buy It Now listings. If there is no real difference then it may be wise to simply buy a model outright which will guarantee the purchase.
Conclusion
Due to the popular nature of Lego, there are plenty of used models that can be found on the internet and on eBay in particular. Because they are second-hand, sellers are likely to be offering them at reduced prices to guarantee a quick and easy sale. By searching on eBay for Lego, it is easier to view all the kinds and in particular narrow down the search to only include used or second-hand models.