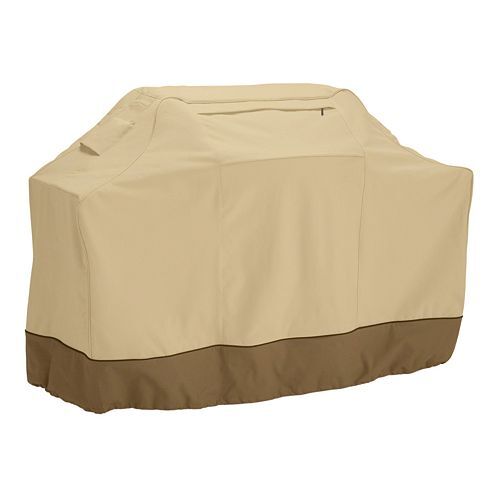 Any individual who has had a hand at regularly using a barbecue or an outside grill knows the importance of a barbecue cover. This is especially true for those who cannot carry the barbecue in and out of the house every time it is used. Even the most durable barbecues made from quality materials can be damaged by prolonged exposure to the elements. A good barbecue cover protects against sun and rain and increases the life of the equipment, which ensures many years of top-quality meals.
Barbecue covers can be bought from shops that sell garden equipment or cooking utensils. Additionally, a number of retail websites sell barbecue equipment, and this includes eBay and other similar retailers. People who love to grill under the open sky can help their barbecues last longer with a quality cover. They just need to learn about the different kinds of covers that are available and which features to choose.
Materials for Barbecue Covers
The grill enthusiast can find a number of quality barbecue covers in different materials. The most common covers are made from vinyl, polyester, or canvas, although other types of materials may also be reliable.
Polyester Barbecue Covers
The durability of polyester is attractive to many people, and the light weight of the material is a bonus. Polyester covers also dry quickly, which is a plus for those who are living in humid climates. Polyester barbecue covers can be used in any kind of weather or climate, including extreme summer heat, heavy tropical rain, and winter frost. This versatility is one of the more appealing traits. Polyester fibres that are used in covers are normally chemically treated to be resistant to water and sunlight.
Vinyl Barbecue Covers
There are many advantages to vinyl barbecue covers, the first being that the material is waterproof. A lot of covers are going to be used outdoors for an extended period of time, so heavy duty vinyls that are at least 12 gauge are generally a better choice. Lighter variations suffer damage much more quickly, and this forces the buyer to replace the cover more often.
Canvas Barbecue Covers
One of the more heavy duty materials used in barbecue covers is canvas, a material that is also used in boat sails, camping tents, and shoes. This tough material is an excellent choice for an outdoor cover because it is long lasting and can be treated to be weatherproof and fireproof. It is also usually cheaper than some other fabrics that are used to make covers. Canvas barbecue covers are a worthwhile alternative to polyester and vinyl for these reasons.
Features of a Barbecue Cover
A barbecue cover may look like a simple sheet of cloth that is used to cover grills, but there is more to this unassuming piece of protective equipment.
Inside Lining
The inside lining of a barbecue cover is an important feature, as it helps the cover last longer by resisting tears, fading, and exposure. Linings should be chosen that are not prone to mould and mildew. For example, covers with fleece linings are more likely to foster mould than simpler, more practical materials that clean and dry easily. Not to mention, woolly linings make good habitats for insects and other bugs. An exemplary lining example would be PVC, as it is waterproof. Polyester and nylon are also excellent lining choices.
Durability
Heavy duty fabrics cannot be easily ripped or torn, even after being used for lengthy periods of time. Heavy duty barbecue covers are also less likely to be blown away on windy days, and that ensures more consistent protection for the barbecue. Lighter fabrics need to be tied down to secure the cover, and this creates more work for the barbecue owner.
Premium barbecue covers have better tolerance for heat than flimsy covers. This helps the cover resist the heat from the barbecue itself, which means barbecue owners can replace the cover more quickly after cooking, and it also provides additional protection from harsh sunlight.
Quality
In the case of barbecue covers, quality over price is recommended. Most heavy duty barbecue covers are likely to give the buyer more long-term value for the price, as opposed to cheaper, thinner covers that are easily damaged. If the barbecue owner wants optimum protection for his or her cooking equipment, then spending a few more pounds or euros for a better cover is worth it. Buyers should also look for covers made by manufacturers that have an exemplary record of providing excellent quality.
Straps
A number of barbecue cover with straps are available for the grill aficionado who lives in a place where there are strong winds or heavy storms. Straps and ties are good features, even if the buyer lives in relatively balmy climates, as they are useful for keeping covers tightly in place so that animals cannot wiggle their way under the cover and debris cannot be blown into the barbecue. Many covers feature adjustable elastic cords for a tighter fit.
Air Vents
A barbecue cover with air vents does not allow moisture or condensation to form under the cover. A constantly damp cover causes rust and corrosion of the barbecue. Air vents also reduce ballooning of the cover on windy days.
Pockets
Pockets for additional storage come in handy for the barbecue lover who wants to keep certain accessories with the barbecue. Pockets can also be used to store cleaning materials for the cover and the barbecue.
Maintenance of a Barbecue Cover
Both barbecues and barbecue covers need to be maintained properly in order to remain functional for long periods of time. If left outside for long periods, barbecue covers can attract dirt and debris. Fortunately, they can be easily cleaned. Covers made from non-porous or rubberised materials need only be wiped down. Soot, smoke, and grease from the barbecue itself also need to be cleaned periodically to avoid transfer to the cover. A thorough scrubbing removes any grease or dirt, along with mould, mildew, and various other foreign substances.
Barbecue covers protect a piece of equipment that comes in contact with food, so keeping both the grill and the cover clean is essential. Plenty of cleaning products can wash away grease buildup and other dirt. Sprays are also available to root out insects that might have taken up residence in covers and barbecues that have not been used in a while. Chemicals should not be so harsh that they eat away at the protective cover along with the dirt.
Buying a Barbecue Cover on eBay
Many online retailers offer quality barbecue covers, but the more popular merchant sites often feature the greatest variety of options. Although it is a huge online retailer, the eBay site is very easy to navigate. You simply visit the eBay home page and type your keywords into the search bar that is easy to spot. Once the results appear, all that you need to do is narrow down the search results by using the options and site tools that are presented on the results page. You can order your list by location and price to cull out the results you do not want and focus on the features that matter most to you, such as brand or condition.
You can also cut down on the number of items that are initially listed by typing in very specific search parameters. A general keyword is likely to result in thousands of items, but this can be reduced by changing the search term itself. For example, the phrase "black barbecue cover" produces much more focused results than simply typing in a general term like "barbecue covers".
As with any online transaction, make sure that the seller is reputable by reviewing his or her feedback. It would be ideal if he or she has all positive feedback on transactions involving the same kind of product that you are buying. It is sometimes difficult to evaluate a product properly by reviewing an online description, so read the details carefully and ask questions, if necessary. Make sure you study any photos of the item, as well.
Conclusion
For a barbecue to last, barbecue covers are an important accessory, especially if the barbecue equipment is permanently installed outdoors. Barbecue covers are essential to maintaining the cleanliness and integrity of a grill. They keep dust, pollen, dried leaves, debris, and even animal waste from contaminating a tool that is used in food preparation. A barbecue cover also limits exposure to extreme outdoor weather that causes the grill finish to wear away or rust, and this extends the life of a barbecue and lessens the need for frequent cleaning. A barbecue should be properly covered every time it is put away.
Some makers of barbecues offer their buyers custom covers that are designed for specific grill models, which is useful since they are made to fit and cater to the quirks of particular barbecues. On the other hand, these covers might cost more since they come straight from the barbecue manufacturer. Generic covers made by other manufacturers tend to work well enough for most barbecues.
Virtually any type of barbecue cover or accessory can be found on eBay, or buyers who prefer to shop locally can find a limited selection in shops that sell barbecue equipment. A barbecue can be expensive, and using a barbecue cover is one simple way to protect the investment and keep the barbecue functional for many years to come.