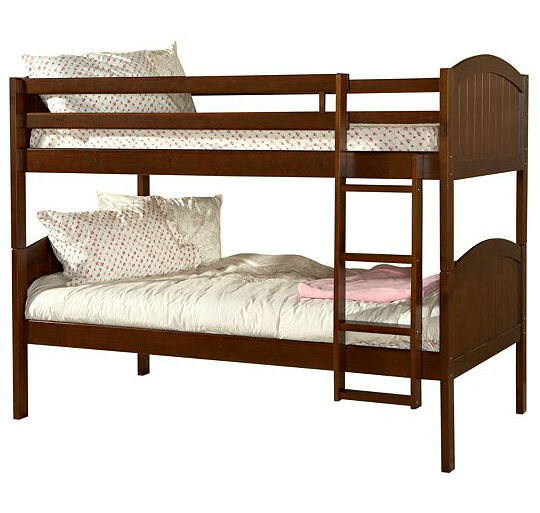 A bunk bed is one of the most popular types of beds available for space-saving and convenience. Bunk beds are often used for young children but can also be a comfortable solution for teenagers or adults. They come in a wide variety of styles and materials with many storage and safety features to consider. Buying the ideal bunk bed for your home does not have to be complicated. Following a few easy guidelines, including safety priorities, will lead you to the perfect bunk bed for your family.
Bunk beds can be purchased from furniture and department stores, estate or yard sales, and from online marketplaces such as eBay. eBay has a wide variety of used and new bunk beds from both private and commercial sellers, along with a large online community that rates its sellers with valuable feedback to assist other customers. Browse a full range of items with a simple search using categorical and organisational options to refine your search results. Once you learn how to navigate the site and find what you need, you will be able to use it to compare prices, styles, and even different colours of bunk beds.
Choosing a Bunk Bed
Before you begin looking for the perfect bunk bed, consider the reasons as to why you need it. There are three important questions to ask yourself in order to find the best solution for your home and family: how much space do you have, who will be using it, and will it fit in with your current décor.
Bunk Bed Space
Since space requirements will determine how big the bunk bed can be, along with its shape and configuration, the room it will go in is the first thing you should consider. Is the ceiling high enough to accommodate a bunk bed? Do you have enough floor space for a non-traditional frame? Answers to questions like these will help you determine the best type of bunk bed to look for.
Measure the floor space and ceiling height with a tape measure for the most accurate space comparisons. Remember to leave at least 60 cm of space between the top of the bunk bed and the ceiling. If you are purchasing an average bunk bed that is 1.8 metres tall, for example, you should have a ceiling that is at least 2.4 metres high. Depending on whether you are looking at a standard bunk bed or one with drawers, for instance, you may also need to calculate extra floor space.
Bunk Bed Use
Who are you buying the bunk bed for? What may be appropriate for a child's room may not be suitable for an adult. In the same way, a girl's needs are often different from a boy's. A teenager may not require a lot of storage space while a toddler usually has many items that need storing. Your shopping experiences will differ depending on individual needs.
Bunk Bed Décor
Remember to choose a bunk bed in line with your own personal style. It should match the current decorative taste of your home. Choose a style, shape, and finish that will appeal to you and your children and still be both functional and space saving.
Bunk Bed Safety
Above all else, choose a bunk bed based on its safety features, especially if it will be used by young children. Features such as guardrails, headboards, and footboards will protect both children and adults from unnecessary injuries and accidents.
Bunk Bed Types
Bunk beds are available in several standard and non-standard sizes. They are made from wood and metal in many different styles to match traditional or contemporary homes and everything in between. Along with these options, you can also find bunk beds that offer extra features, such as built-in drawers and desks.
Bunk Bed Materials
As previously mentioned, bunk beds tend to be made from either metal or wood. There are benefits and drawbacks to both materials, so learning about each is best in order to make an informed decision.
Metal
Metal bunk beds tend to have a modern or contemporary appearance. They are generally lighter than wooden beds and are often coated with a finish that is tougher to chip than regular paint and therefore resistant to UV damage and rust. These bunk beds are generally less expensive than the wooden versions, due to their simplistic designs and fewer optional items. Metal bunk beds can also be more flimsy depending on the manufacturer and often require a more complicated setting up process.
Wood
Wooden bunk beds form more than half of the modern bunk bed market. Because of this, they often come in a larger variety of styles and shapes and offer buyers more features in optional items such as ladders, storage units, and drawers. Many wooden bunk beds are used in traditional or country-style homes. However, some "wood" types are engineered wood made from particleboard and other flimsy materials that can make the bunk bed less stable.
Bunk Bed Styles
The style of the bunk bed can be just as important as the material you have chosen or the configuration it is in. Even if you are buying for children, it is important to maintain a balance between functionality, practicality, your tastes, and their personal styles. The following table lists five styles to choose from:
Style

Features

Traditional

Inspired by historical eras and customs

Can be ornate and decorative with elements such as crown moulding and scalloped edges

Most often made from wood

Contemporary

Features simple lines with emphasis on practicality

Has relaxed ornamentation with a chic flair

Made from either wood or metal

Transitional

Uses a combination of traditional decorative details and contemporary designs

Made from either wood or metal

Easily adaptable to many styles and types of décor

Country

Relaxed and comfortable appearance

Includes whimsical decorative details such as stencilling, embossing, and beadboard

Typically made of wood or a mix of wood and delicate metal

Ideal for warm and homey interiors

Themed

Features particular themes inspired by cartoons, movies, fantasy, or history

Often ornate designs such as pirate ships or princess castles

Can be made from wood, metal or both
The above chart is a general guide for buyers to make an informed choice at a glance. As you can see, there are plenty of options available to keep you and your child happy.
Bunk Bed Configurations
Another option you should consider when choosing bunk beds is the configuration. In the past, bunk beds were made with one bed built over another, same-sized bed. Now, however, there are many types to choose from, depending on your needs and personal style. The following are only a few of the most popular configurations.
Standard (Twin Over Twin)
This is the traditional bunk bed with two twin beds stacked one over the other. Generally, the top bunk can be accessed by a small ladder. A standard bunk bed is still popular because they can usually be separated into two individual beds if need be.
Twin Over Full
If two children of different ages are bunking together, a twin over a full bed is a good option. Similar to a standard bunk bed, except that the bottom bed is a full size or double mattress, this can also be a suitable option for a guest room.
Loft
The loft bunk bed has become a popular choice due to its versatility. This configuration features a top bunk over open space, which can be used for extra storage, a small desk, or another bed when needed. This design is often used for "T-shaped" bunk beds in which the lower bed runs perpendicular to the top bed.
L-Shape
An L-shaped bunk bed is similar to a T-shaped bunk bed, except that the lower bed is moved to one side, making the shape of an "L" if viewed from above. The extra space next to the lower bed can then be used as a study area, an entertainment zone, or even for extra storage space.
Futon
Futon bunk beds consist of a twin bed on top and a futon sofa below it. Because some futon beds also feature trundles underneath, this is a good option for those who want more versatile sleeping arrangements. It is also great for children who have lots of sleepovers.
How to Buy a Bunk Bed on eBay
Once you have decided on the type of bunk bed you would like to purchase, you can look at online marketplaces like eBay to find exactly what you need. Begin your search by entering your keyword terms into the search box located on eBay's home page. Take a moment to examine the listings or use the refinement options to narrow your search by category, price, and more. When a listing catches your eye, click on the image or title to be taken to the full listing page. There, you can read more about the bunk bed, peruse photographs of the item, read about the seller's shipping policies, and calculate any shipping costs. Be sure to also inspect all available payment methods that the seller accepts so that you are prepared to complete the transaction as soon as you have made your decision.
It is also a good idea to take a look at the seller to ensure that you have a positive buying experience. Click on his or her name to review their feedback rating, completed transactions, and comments from other customers. After you have received your purchase, you can also leave positive feedback for the seller.
Conclusion
Bunk beds are a popular choice for children who share a bedroom and a great option for a guest room or summer house. A wide variety of bunk beds can be purchased from furniture stores, specialty shops, and online marketplaces such as eBay. Online buyers can shop for the ideal bunk bed using a range of search refinement options that can include colour, style, and more. You should carefully read each item's description to compare it with the included photographs. It is also wise to review the seller's profile and his or her previous feedback from other customers to ensure that he or she is a good fit for you.
Buying the perfect bunk bed does not have to be complicated. Once you know what you want, where it will go, and who it is for, finding something to match your storage, space, and style requirements becomes a simple task. With an abundance of online buying options available, you will quickly be able to find the ideal bunk bed for your family and home.