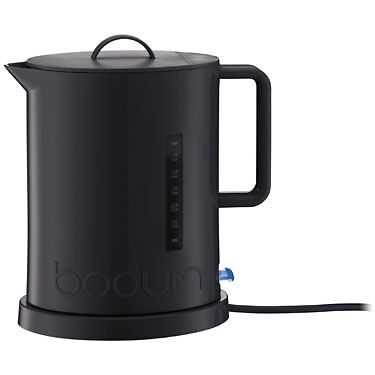 One fairly recent advancement in the long history of kettle design that has proven to be very useful and popular is the cordless electric kettle. Having no attached power cord makes it more portable, which provides a level of convenience that traditional electric kettles can't match. In fact, it's the electric kettle's rediscovery of the convenience offered by traditional non-electric kettles that sit on a heating plate or, in earlier times, were suspended above an open fire.
About Cordless Electric Kettles
Cordless electric kettles come in two parts: the base and the main part of the kettle, the water container or 'jug', which also houses the heating element. The kettle base is connected by its power cord to any conveniently located power outlet. The kettle sits on top of the base and makes a secure electrical connection with it. When switched on, the power is fed via the base to the heating element within the kettle. When the water reaches boiling point, the inbuilt thermostat ensures that it automatically switches off. The kettle can then simply be lifted off its base and carried by hand to wherever it's needed. There's no attached cable to disconnect; that's permanently and conveniently attached to the base.
Design Features
Cordless electric kettles, in common with other electric kettles, have various features included. When choosing a suitable model, the following design features may be worth considering.
Thermostatic Control
All modern kettles have a thermostat. It ensures that the power will be cut when the water starts boiling, which is necessary to prevent the water boiling away and damaging the heating element. If buying a second-hand kettle, however, it's necessary to ensure that it has a fully operational thermostat. It's an essential feature.
Power Rating
Kettle designs have improved over the years with a corresponding increase in heating efficiency. However, it's still the actual power rating of the kettle that determines how quickly it can boil water. Any cordless kettle that has a power rating of 3,000 watts or greater is classed as a quick-boil cordless kettle. The electricity used while it's switched on is considerable, but that's offset by the much shorter time required to boil the water.
Rotatable Base
A more recent innovation in cordless kettle design is the rotatable or swivel base. This enables the kettle jug to be returned to its base whether it's being held by the left hand or right hand. The cheapest cordless kettles, typically, don't have this feature, but it's well worth considering for its added convenience.
Water Level Indicator
The level indicator shows clearly how much water is currently in the kettle. This makes for greater economy as it's easy to fill the kettle with only as much water as required for any particular occasion. Some kettles have a level indicator on both sides so that the level can be seen from any angle. Level indicators also indicate the minimum and maximum levels of water that the kettle should contain. If the water level is too low, it could expose the heating element and cause it to burn out. Some models have an auto shut off function that can save any damage in this situation, but it's a situation that should be avoided in the first place. Over-filling the kettle is also to be avoided as scalding hot water can spurt out as it approaches boiling point.
On/Off Light
This is a convenient, but not especially important, feature. It simply indicates that the kettle is switched on and that the water is being heated. It can be useful, however, if a fault develops. If the kettle fails to heat the water but the light is on, it indicates that the fault is with the kettle's heating element and not the base or power supply.
Filters
For those who live in 'hard water' regions such as many parts of the south of England, limescale in the water is a fact of life. It's completely harmless but not very pleasing to the eye if larger particles are present and transferred to any hot drinks being prepared. Some kettles have a built-in filter that catches limescale particles when the water is being poured into a teapot or cup. As limescale isn't a problem in 'soft water' regions such as central Scotland and many other parts of the UK, a filter may be less important.
Buying a Cordless Kettle
Cordless electric kettles can be purchased new or second hand. Second-hand kettles can be sold 'as is' or they can be kettles that have been professionally refurbished.
Buying New
Cordless electric kettles can be bought from any shops selling household goods and kitchenware. Most supermarkets, these days, carry at least a few brands of cordless electric kettle. Many are marketed under famous brand names and can be relied upon to operate safely and efficiently. Others may be manufactured by less well-known companies but must still meet stringent safety requirements in order to be sold by retailers. Cordless electric kettles can also be purchased online from a wide variety of sources.
Buying Second Hand
Buying a cordless electric kettle, in common with all electrical appliances, carries an element of risk, as the kettle may have hidden faults. To minimise these risks, it's always desirable to check the kettle before buying if possible. Any physical damage to the electric cord should be grounds for not buying it. The thermostat should also work efficiently and the kettle should be able to boil water in a reasonably quick time.
Buying Refurbished
These may be refurbished and resold by the manufacturer or refurbished by an independent company. Manufacturer-refurbished kettles need to meet a minimum standard of quality before being resold and will include some kind of warranty. Independently refurbished kettles may not meet the same specifications but are often cheaper than manufacturer-refurbished models. They must still meet minimum legal safety specifications, however, as well as be in good working order.
How to Find a Cordless Kettle on eBay
One of the best known online sources of cordless kettles is eBay. If based in the UK, then search using eBay's UK site. This focuses mainly on cordless kettles being offered for sale or auction within the country and avoids any problems of dealing with overseas sellers whose kettles may not be compatible with UK voltage nor even adhere to British safety standards. By simply entering the search term 'electric cordless kettles' into eBay UK's homepage search box, a list of cordless kettles will be returned. eBay's product classification system provides filtering tools so that when searching for a particular type of electric cordless kettle or one with specific features, the site filters out those that aren't suitable. These filtering options are displayed on the left-hand side of any of the search listings pages and include:
| | |
| --- | --- |
| Brand | This filters the list to include only models manufactured by well-known companies like "Morphy Richards". |
| Price Range | A price range can be entered into this field to ensure that only a list of affordable kettles is shown. |
| Material and Colour | To fit in with personal taste or the surrounding kitchen decor, cordless electric kettles can be listed according to the materials they're made from, such as: stainless steel, plastic and aluminium. The required colour finish can also be selected. |
| Buying Format | Cordless electric kettles may be offered as auction items or for direct sale. The required buying format can be selected with this option |
| Seller | For extra peace of mind, it's possible to restrict the list to eBay's recommended top-rated sellers. These are sellers whom eBay regard as highly professional and trustworthy. |
| Condition | This option tailors the search results to include kettles being offered as new, second hand or refurbished. |
| Location | Although eBay's UK site features mainly electric cordless kettles for sale or auction within the UK, it's easy to extend the search using this option to within the entire EU or even further afield to the rest of the world. |
Conclusion
The one real advantage that cordless electric kettles have over traditional corded types is convenience. As the kettle can be instantly detached from its base and carried anywhere without having to physically disconnect a power cord, it's seen as a significant advantage. For many, this added convenience makes the cordless electric kettle, the kettle of choice.