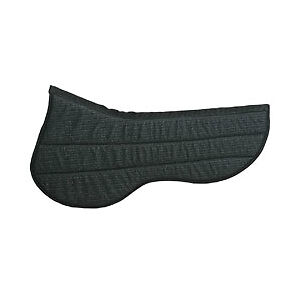 For any keen equestrian enthusiast it is essential to have the appropriate equipment to protect both the rider and their horse. Having this equipment will ensure the safety of those involved, the comfort of the animal and most importantly create a more enjoyable riding experience. Horses come in a variety of shapes and sizes and it is paramount to the health of the horse that it is fitted with equipment that is suitable so that the horse can reach its performance potential. It is possible to purchase saddle pads and other horse equipment online, eBay has a large range of equestrian products, and lets you search, sell or purchase in a safe and secure environment.
This guide will give you a thorough idea of the kind of non-slip saddle pad you are looking for, the style options you have and how to make a purchase with confidence on eBay.
What is a Non-Slip Saddle Pad?
A 'pad', 'blanket' or 'numnah' (from the Urdu word meaning 'between saddle and horse') are all names referring to the now common used, saddle pad. It fits on the horse underneath the saddle, with the purpose of keeping the saddle in position on the horse during mount, dismount, canters and jumps, whilst also reducing the slip of the tack. In some cases even when a saddle has been fitted professionally the saddle may still slip occasionally, and the pad is needed for the comfort and safety of the rider.
What is a Non-Slip Saddle Pad Made Of?
In the days of yore, saddle pads were fashioned from animal skins, mostly sheep with the hide still attached, nowadays the most common materials include memory foam, and honeycomb thermoplastic.
There are a few different varieties of non-slip saddle pads, but the large majority are made up of a lightweight gel material called Neoprene that can vary between 3mm-20mm thickness, it has the capacity to reduce friction from the saddle and also allow the skin of the horse to breathe by use of a waffle-type design at the back of the pad. They are sometimes described as 'Tacky' as well as 'Non-Slip'.
Other Types of Saddle Pads
There are a number of types of saddle pads within the marketplace today, and these are explained in the table below:
| Type | Description |
| --- | --- |
| Contour | These pads are designed for horses that have a slight dip or curve in their back, or more prominent withers, it creates a more stable and comfortable ride for rider and horse. |
| Straight | Rectangular in shape, and designed for horses with little or no curve at all in their back. These are often the larger more rotund horses that have no withers at all. |
| Round Skirt | Instead of a common rectangular shape, these pads have a curved edge at the back, and are often matched with saddles that are also curved. |
| Cutout | These pads are 'cut out' around your horse's withers and spine to create a more comfortable ride, they are sometimes even cut around the legs to give the rider more power over their cues. |
| Swayback | Designed for horses with very high withers, it gradually increases towards the middle and remains the same at the four corners. This reduces the pressure on the horse's spine for added comfort and distributes the weight of the rider evenly. |
What are the Benefits of the Non-Slip Saddle Pad?
Comfort: It is easy to see that horses come in all different shapes and sizes, so fitting a saddle to perfection is often difficult. The support of a Non-Slip Saddle pad means that even with a well fitted saddle there is considerably less chance the saddle will move, lean to one side, or become unbalanced during the ride. This promotes ease and peace of mind for the rider and helps the horse relax and perform unburdened.
Horse Health: Without any saddle pad it is common for the horse to experience friction from the saddle during a ride, this will often discourage the horse, and lead to other more serious complications such as sores, back injuries and skin irritations. The texture and make-up of the Non-Slip Saddle Pad eradicates the danger of friction or injury.
Horse Hygiene: The gel material of the Non-Slip Saddle Pads is breathable, evaporates moisture more effectively than other Saddle Pads and is easily washable after a ride, meaning they are also anti-fungal and anti-bacterial.
Warmth: In those winter months the Pad also creates an extra layer for your horse before a ride.
How Do I Know I'm buying the Right Non-Slip Saddle Pad?
Shape:
Firstly, if the buyer is looking for a contour, straight, round skirt, cut-out or swayback saddle pad, the options are numerous. However, in terms of non-slip saddle pads they will firstly either be fitted, or square. Any English style saddle will fit both of these non-slip pads. However, there are advantages and disadvantages to both options which are listed below:
| Shape | Advantages | Disadvantages |
| --- | --- | --- |
| Fitted | A fitted Non-Slip Saddle Pad follows the shape of the English saddle meaning that there is a tighter bond between the saddle and pad, often the pad will absorb the shock from the rider more affectively meaning there is much less chance of the horse becoming injured. It may also reduce the pressure on the girth and breastplate creating a more comfortable ride. | This option is less pleasing in terms of aesthetics, and will not be offered in any colours or patterns. |
| Square | The square Non-Slip Saddle Pad is often a warmer alternative for a rider, because it simply has more coverage. It can also come in some eye pleasing colours. | The square pad in contrast will not promote injury, but depending on type may not be quite as effective as the fitted in regards to supporting the horse's spine. |
Thickness:
Secondly, depending on the horse, you might also want to consider the thickness of the Non-Slip Saddle Pad, and the degree of support or warmth that your horse might need. Think primarily about the type of riding that that it will be used for. If it is often strenuous and long then it is perhaps best to think about the degree of support that the horse or pony might need; however there is no need to worry if it's just short trots around the field. If your horse has recently had an injury, consider buying a thicker Non-Slip pad to support the spine of the horse during the ride. Similarly if the horse is overweight, there may be complications with the saddle in the future due to loss of weight, and therefore consider making sure the saddle remains stable during the rides whilst you arrange a re-fitting.
Design:
If you are keen on the look of your saddle pad, or are likely to be involved in shows, perhaps look into colours, quilts or extras you can buy with your non-slip pad including themed saddle pads, saddle pad covers, and sheepskin extras.
How to Buy Affordable Non-Slip Saddle Pads;
Now that this guide has offered advice on buying Non-Slip Pads for your horse or pony, here are some tips of things to do next. Buying equestrian equipment doesn't have to be a hassle, and you should feel in a suitable position to make an informed decision about what is best for you and the horse.
Take the time to learn exactly what the horse or pony needs, make sure you know the size, design, shape, thickness or colour of the saddle pad you need. Take into account if your horse has suffered a recent injury, has any special requirements or whether they may lose weight in the near future which could change the size of the equipment you might need.
Look into second hand items, saddle pads that have been owned already may prove to be a worthwhile purchase, and cost you considerably less as a nearly new item.
Shop around by researching a few different places that sell the same item. It is more than likely to be able to keep your purchase within budget and obtain your saddle pad much more easily than you expected.
Have a look online for Non-Slip Saddle Pads, high street shops will quickly mark up their prices to meet overhead costs, purchasing equestrian equipment online could potentially result in major savings.
How Do I Buy a Non-Slip Saddle Pad on eBay?
There are a plethora of equestrian products available to purchase on eBay including, saddles, turnout rugs, riding hats, reins, and boots. It's a great way to find a variety of products with safe and secure payment options.
When looking to search for Non-slip saddle pads, either simply type in 'Non-Slip Saddle Pads' in the search box you will find on every page, or follow the links from 'Sporting goods' to 'Equestrian' and then click 'Horsewear and Equipment' and you will see all the options appear in the left hand column.
When searching for your chosen item, make sure to keep your horse in mind, ensure the images are correct, shop around other sellers and see if there are any other favourable options, and do be afraid to ask the seller for more information about their product. This can be done by simply clicking 'Ask the Seller'.
If you would like more advice simply visit the Buying Tips page of eBay, under the Help section.
All eBay customers are covered by the Buyer Protection Program.