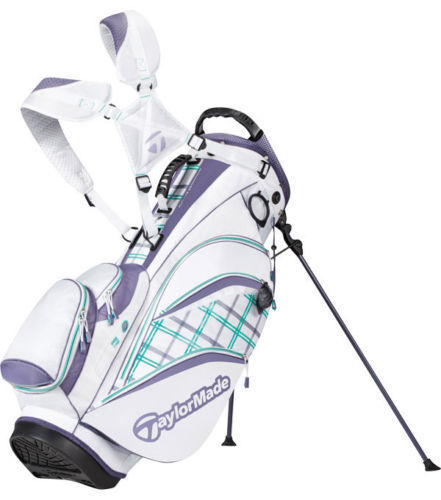 In the world of golf, moving clubs around is a necessity and can be a hassle even at the best of times. The top way to make this task easier is to invest in a golf stand (sometimes referred to as a golf stand bag). It will protect and store those expensive clubs, and help ensure that they are ready for use when out on the course
Golf bags used to be a bulky product that had to be lugged around the course. They took the relaxation element out of the sport and made getting around the holes pretty treacherous.
When players feel they need to replace their existing stand or bag they should have only one destination in mind. eBay has become a respected resource in the golfing world, and is sure to have all you need and more at affordable prices.
What is a Golf Stand?
Golf stands are a variation on the familiar club bag. They feature sturdy and rigid retractable legs, which when folded out create a tripod mechanism that allows the bag to stand freely. This makes the clubs easily accessible and actually displays them to the player. These bags are notoriously lightweight and easy to move, but that doesn't detract from their build quality.
Depending on how much investment is made in a golf stand, there may be added features that are of use. Golf stands are a great way to store and move a set of clubs. When it comes to finding a replacement golf stand, shoppers can't go far wrong with checking out what eBay has to offer.
Types of Golf Stand
The core of any golf bag is its mobility, and how a bag can be carried should be the main point to consider when purchasing a replacement. Shoppers should ask themselves whether or not they prefer a single strap or dual strap model.
| | |
| --- | --- |
| Type | Details |
| | A single strap is considered the classic golf stand design. The strap is padded, whilst being easy to put on and take off. The negative side of the single strap occurs when golfers are playing on a large course, as when a lot of carrying is required the strap can dig into the shoulder. |
| Dual | Considered the premiere golf stand in terms of comfort. The dual strap makes carrying and displaying a set of clubs a breeze. They go on just like a backpack, which helps distribute the weight far batter than a single strap. Dual strap stands feature gel padding and air filled compartments to improve comfort. The downside of dual strap stands is that they're more expensive than their single counterparts. |
Golf Stand Features
No matter whether you're a pro or amateur, a golf stand is a popular choice in terms of storage. The features inside these bags vary, so it pays to do a little research and see which ones you require. Shoppers should also take into consideration where they think their game is going. Golf stands are a long-term investment, so if you believe that your game is heading down a more competitive route it may be worth investing in a more feature-rich model.
| | |
| --- | --- |
| Feature | Details |
| | Using a phone while out on the course is frowned upon. Golf stands can come with a phone mount , which means it can be stored in view. Place it on silent, so in between shots you can quickly check for calls and messages without fumbling around or disturbing other player's games. |
| GPS Mount | Large courses can be difficult to navigate; so many players invest in a GPS. Make sure that the GPS stays in view by investing in a golf stand that comes with a GPS mount . This will ensure that you never get lost while out on the links again. |
| Drinks Cooler | Golfer's who are playing a round on a sunny afternoon won't want to be struck by dehydration, or have to trek back to the clubhouse in order to get a drink. A golf stand with an inbuilt drinks cooler will help players remain focused and refreshed with a cold beverage. |
| Ball and Club Shammy | Clubs and balls receive regular wear on the course, with dirt contraction being a regular occurrence. Nobody wants to open up a stand to see a bunch of dirty clubs. An inbuilt shammy will ensure that they remain in great condition whilst in storage. |
Golf Stand Compartments
If a player is looking to take their game in a new direction, there is no better place to start than with a new golf stand. Top amateur players will want to step-up and enter regulated competitions, and owning the right stand is actually an important element to consider.
* Golfers are allowed to carry up to fourteen clubs on any one round.
* Understand how many clubs you need on a round and work off that.
* Don't overstock, as the excess weight can take its toll.
* Invest in a model that comes with an external putter holder, this will allow for easy access to a club that is essential on the green.
Pockets
Golf is a time-consuming sport that can often take up an entire morning or afternoon. It would be no surprise that many a golfer has been caught without essential supplies, due to simply not having enough space in their bag. If this happens regularly, players should look for a golf stand with extra pockets. Pockets in a golf stand are suitable for carrying one or more of the following.
* Club brush
* Extra tees
* Ball marker
* Extra balls
* Towel
* Rain jacket
* Gloves
* Sun block
* Water
* Food and snacks
Investing in a stand that has extra pockets can be a lifesaver when out on the course, as the extra items can be the difference between defeat and victory.
Buying Used
There is no doubt that of all sports, golf stands as one of the most expensive. From clubs to balls, everything carries a substantial price tag, however there are areas where players can save money. Golf stands are built for longevity, meaning that many golfers choose to sell off their old stands when they acquire something new. Savvy shoppers can capitalise on this and pick up a high quality used golf stand at a fraction of its new RRP.
It should be noted that buying used is not without risk and shoppers should always be cautious. Open up a line of communication with the seller, and ask them a few questions to see if a used golf stand is suitable.
* How old is the golf stand?
* Is it still under manufacturer's warranty?
* Has it suffered any cosmetic damage?
* Has the stand been subjected to any repairs?
* What is the condition of the stands tripod?
How to Buy a Golf Stand on eBay
Golf is nicknamed the sport of kings, but it doesn't take a king's ransom to own a top quality golf stand. This once specialist item is now a regular on the course. Players all around the world are constantly looking to replace what they own with something better. When the time comes and a golfer feels they need to purchase a new golf stand, they can't go far wrong with an offering found on eBay, the world's leading online marketplace.
* Log-on to eBay's homepage and select the sporting goods category, before clicking on golf and then golf bags.
* This will display all live golf bag auctions and shoppers can browse all that's on offer openly.
* If shoppers have a specific brand of golf stand in mind they should try using the advanced search function found at the top of the page.
Completing a Transaction
* When a shopper has decided on a golf stand, they'll need to complete the purchase. In order to do this they should do one of the following whilst on an item listing.
o Place a Bid
o Make a Best Offer
o Buy it Now
* If you win the auction, you'll be required to make near enough instant payment via the on-site checkout system.
* It is advised that shoppers do this through PayPal; it will make sure that the order is covered by the buyer protection program.
Conclusion
Golf is a big industry that turns over millions in profit every year, and brands will ruthlessly compete for a customer's business. One of the popular products that are regularly found on the course is a high quality golf stand. Even though it doesn't directly add anything to a golfer's game, the extra comfort can make the difference between winning and losing when out on the course.
This guide looks at all types of golf stand available and will help shoppers decide which one is right for them. When a golfer has come to a decision on which model to opt for, they'll want to make sure that they get it at the best price. All anyone needs to do is log-on to eBay and they'll have a wealth of affordable golf stands that are simply a few clicks away.