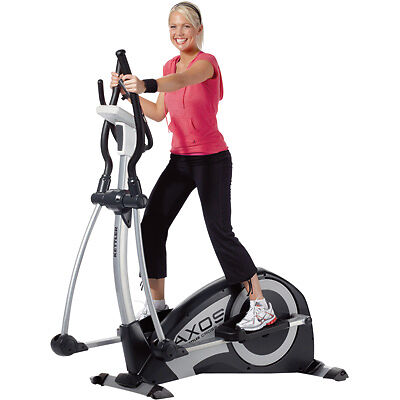 Exercising each day is an important part of staying fit. In fact, studies show that just 15 minutes of exercise on a daily basis can add three years to your life. While many people turn to running as an inexpensive start, those who have conditions like joint pain, obesity, or bad knees often find it difficult to do it. This is because running, along with other activities like tennis or aerobics, is a high impact exercise that puts a lot of strain on the particular body parts associated with the activity. For this reason, many health experts often recommend working out using an elliptical cross-trainer, which is often found in fitness health clubs.
If you lead a full, busy life, however, having to go to the club just to work out can be inconvenient. Because of this, some people prefer purchasing their own elliptical cross-trainer for their home. For those who cannot afford a brand new one, used elliptical cross-trainers may also be purchased in flea markets and on eBay. Those who are serious about purchasing a used machine should know the different types, features, and brands. More than this, it is also important to know how to evaluate a used elliptical cross-trainer as well.
Overview of the Elliptical Cross-Trainer
The elliptical cross-trainer is a machine that imitates running, skiing, and climbing without the user having to lift his or her feet from the ground. Elliptical cross-trainers are considered low-impact because they do not put pressure on your joints. This machine was invented by Larry D. Miller in the '90s when he was observing his daughter running next to a car. It was here that Miller realised that he could replicate the same motion without putting pressure on the person's joints. While this was initially envisioned as working the lower body, most elliptical trainers today also include the upper body as well. This is why it is referred to as a cross-trainer, particularly because it trains different aspects of the body.
Elliptical Cross-Trainer Types
There are many types of elliptical cross-trainers on the market today. To help make your decision easier, below is a quick explanation of those being sold on the market based on the different methods of classification.
Elliptical Cross-Trainer by Drive
An elliptical cross-trainer may be classified based on drive, which refers to the positioning of the flywheel. Generally, cross-trainers are categorised as front or rear wheel drive. While there is no significant difference between the two, front drive elliptical cross-trainers tend to move the legs at a steeper angle much like a stair stepper machine. Because of this, the user tends to lean forward when exercising. Rear drive elliptical cross-trainers, on the other hand, allow the user to have a longer stride much like walking or jogging. While you essentially perform the same exercise, there are comfort concerns that must be taken into consideration. Additionally, it is important to note that front drive elliptical cross-trainers are typically more expensive than rear drive ones because they have to include both a track system and a roller to support the person's weight.
Elliptical Cross-Trainer by Resistance Type
When it comes to creating resistance, elliptical cross-trainers use either magnetic resistance or air. Resistance refers to the level of intensity or difficulty needed to use the machine. The following table gives a quick explanation of the different types of resistance.
| Resistance Type | Description |
| --- | --- |
| Magnetic Resistance | First type of magnetic resistance has magnets located at the flywheel that push magnets nearer or farther away from the flywheel; second type applies a current to an electromagnet near the flywheel for more or less resistance; known for smooth movements; runs quietly compared to other types of cross-trainers; most common |
| Air Resistance | Uses fan blades to pump out air for resistance; can be noisy when more resistance is applied; affordable; does not require electricity; can be easily repaired; is not child- or pet-friendly as there are vents that can trap fingers |
Most elliptical cross-trainers today, especially the commercial ones found in health clubs, use magnetic resistance. At the end of the day, however, choosing between an elliptical cross-trainer that has magnetic or air resistance often boils down to your budget.
Elliptical Cross-Trainer by Heart Rate Monitor
Aside from resistance, elliptical cross-trainers can also be classified based on their heart monitor types. These monitors let you know how fast your heart is beating, which is useful if you are working towards particular fitness goals. Pulse rates are often monitored through hand sensors that monitors the pulse when the hands are placed on top of the metal strips. These sensors may be placed near the console in front of the user or on the poles that the user swings when working out the upper body. The majority of the elliptical machines also allow users to plug in a chest strap or ear clip.
Useful Elliptical Cross-Trainer Features
Whether buying a brand new or used elliptical cross-trainer, users should take a look at its features as part of their decision-making process. For starters, check if the elliptical machine has an electronic monitor. Aside from keeping tabs on the heart rate, this monitor is also responsible for tracking the number of kilometres that the user has covered. Secondly, determine if the cross-trainer can also move in reverse motion. Exercising in reverse, instead of the forward motion, targets other muscle groups. Third, find out if it has movable handles as this gives you a more well-rounded workout. Lastly, check if the stride length can be adjusted. Because stride lengths differ from person to person, having an adjustable one is useful especially when there are many people who plan to use the machine.
How to Evaluate a Used Elliptical Cross-Trainer
Evaluating a used elliptical cross-trainer is not as difficult as it seems. When you have decided on an elliptical cross-trainer that has your desired features at a price that you can afford, it becomes a must to evaluate its condition. First, check if the cross-trainer has a clean exterior and interior. Machines that are dirty and suffer from years of neglect are often in bad shape. Next, look for signs of wear and tear on the console. If the keypad seems to have depressed or faded buttons, then consider these signs that it has been used quite a lot. Another thing to watch out for are abnormal noises when test driving the machine. This could indicate problems with ramp, rollers, or major joints.
Elliptical Cross-Trainer Brands
While some people take a chance and look for used elliptical cross-trainer brands in flea shops or garage sales, others prefer going to eBay and see the available ones being offered for sale around the United Kingdom. Some of the more popular brands that offer elliptical cross-trainers are Gym Master, Kettler, Reebok, TrimMaster, York Fitness, Marcy, Fuel Fitness, Nordic Track, Precor, Horizon, Beny, Sole, and Livestrong Fitness, amongst others.
Shopping for a Used Elliptical Cross-Trainer on eBay
If you are looking for a used elliptical cross-trainer on eBay, begin by going to the home page and typing the search term in the search field. For example, type "used elliptical cross-trainer" and press enter. This should bring up hundreds of product listings relevant to your keyword. If this brings up too many search results, however, consider typing in extra keywords to make your search more specific. For instance, you can type "used magnetic elliptical cross-trainer". You can also use the filtering options located on the page that narrows down the results based on condition, resistance type, heart rate monitor, location, shipping, and many more.
Looking for elliptical cross-trainers using the Advanced Search function is also helpful. Instead of filtering after running the search, this function allows you to specify your parameters beforehand. You can choose to include the title and product description in the search, which significantly widens the results. You can also specify the price range that you are willing to spend on the used cross-trainer. Because this is a large machine, a helpful tip is to narrow the results down to the machines found within a number of miles near your postcode. Ticking on "collection in person" and "free p&p" saves you money on postage and packaging. In this marketplace where there are just so many available options for used elliptical cross-trainers, it is no surprise that people choose to shop on eBay.
Conclusion
Used elliptical cross-trainers are a fantastic way to stay fit while keeping within one's budget. Additionally, they offer a great way to exercise for people who suffer from conditions that prevent them from doing high-impact activities. When purchasing elliptical cross-trainers, you can choose from front wheel drive or a rear wheel drive. As for resistance, cross-trainers come in two different types: air and magnetic. When it comes to heart rate monitors, however, many use hand sensors but give the user the option to strap in a chest sensor or an ear clip.
Other common features of elliptical cross-trainers include electronic monitors, movable handles, and adjustable stride lengths, amongst others. Those who are evaluating used elliptical cross-trainers should watch out for filthy interiors and exteriors, keypad wear and tear, and abnormal noises coming from the machine. Instead of having to take their chances in flea markets, many people choose to purchase used elliptical cross-trainers online because of the wide selection available.