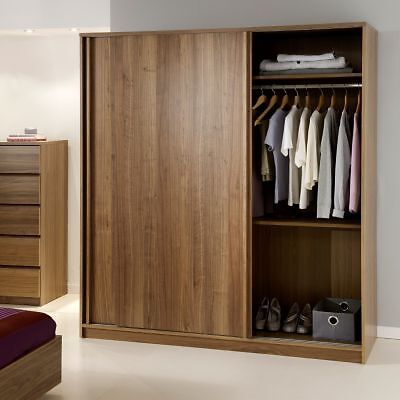 A wardrobe is a welcomed addition to any bedroom. With several styles and models available, a wardrobe can be a primary or secondary closet. Homeowners can hang garments, organise linens, electronics, and other bedroom items yet to have a permanent place. Wardrobes tower over most other furniture, often making it the bedroom's focal point. Shoppers can buy wardrobes with a natural wood finish or ones that are painted.
Wardrobes are available in single or multiple door models, some of which have mirrors or intricate details on them. There are two styles of wardrobe doors: pull out and sliding. Pull out doors are open by extending outwards; this style is the most traditional option. Sliding doors are a modern spin on the classic wardrobe and favoured when fitting furniture in a tight spot. Customers can find an array of wardrobes with sliding doors in catalogues, furniture stores, community message boards, and online auctions such as eBay.
About Wardrobes with Sliding Doors
The first wardrobes, also called armoires, were large, free-standing pieces of furniture with many compartments and doors that open outward. New, contemporary wardrobes have sliding doors for an ultra-chic appearance. While the two-door system is common for sliding door wardrobes, some furniture manufacturers offer three or more door models. Each door panel requires a track for the door to horizontally glide upon. Wardrobes with more than two doors typically have more depth to accommodate the number of doors.
Materials
The best wardrobes are made from medium to hard wood that is both dense and durable. While some budget friendly options use particle wood and laminate, they do not withstand the test of time. Dampness and moisture cause the wood to swell and eventually warp. Only purchase wardrobes made of solid wood. If you are looking for a natural wood finish to match light coloured furniture, beech is durable and elegant. Walnut can complement other medium dark woods in the bedroom and is another popular choice for sliding door wardrobes. Cherry and mahogany have deep, rich overtones of dark brown and deep red. Shoppers can also purchase wardrobes already painted a solid colour or look for one to paint themselves.
Interior Space
In addition to considering what the outside of the wardrobe looks like, shoppers must also account for the interior space. Wardrobes are built with three main types of storage options: a hanging bar, shelving, and drawers. Many wardrobes have a bar for hanging garments, and those who want to use as wardrobe as closet storage should purchase one with a bar. Wardrobes with shelving space can be used for folded clothes, such as t-shirts, shorts, or even linens. Shelves are also a convenient place to store knick knacks. Wardrobes with drawers are ideal for storing socks, underwear, and other small items. Most wardrobes have a combination of all three types of storage space.
Choosing a Wardrobe with Sliding Doors
When deciding on which wardrobe with sliding doors to purchase, shoppers must have a checklist for what they need. Decorators should also consider the style and size of their ideal wardrobe. Not accounting for pre-existing furniture and space could result in buying a piece of furniture too small or too big. Additionally, the bedroom's décor should influence which wardrobe you choose; while all furniture does not have to be the same colour, they must coordinate. Mirrors have become increasingly popular features in wardrobes and are available in several styles. Finally, the wardrobe's interior structure should accommodate the items that are to be stored inside. The sections below may help you determine what type of sliding door wardrobe is best for your bedroom.
By Style and Size
Because they typically stand taller than any other piece of furniture, the wardrobe is often the focal piece of the bedroom. Unlike some classic wardrobes with rounded edges, nearly all sliding door wardrobes have a boxy shape. More sliding doors typically translates to longer wardrobes. Besides settling on sliding doors, shoppers must determine if they want drawers and shelves, and if they do, where they should be. Some models of wardrobes have shelving in the interior, on the exterior or both. Drawers come in similar options.
Shoppers must therefore choose a wardrobe that fits the room's motif as well as the space. Before searching for an armoire, its placement in the bedroom should be decided. If the wardrobe is meant for a space with limited room, decorators must measure the surrounding dimensions to ensure they are not buying an oversized piece. In addition to measuring the height and width, buyers must also factor in the depth. The benefit for owning an armoire with more depth is that it allows for more storage space, but shoppers with limited space may want to stick with a shallow one to keep from taking up too much room.
To Match
It is important to purchase a wardrobe that matches the rest of the décor in the bedroom. Decorators must make a colour decision based on the walls, floors, window treatments, and other furniture. While not all furniture has to match exactly, shoppers should instead think about complementary colours. It is best to couple light colours together and darks together. If buying a solid wood wardrobe, DIYers can sand, paint, or stain it to alter the appearance. If the wardrobe is to be the focal piece of furniture in the bedroom, consider painting it a colour that can be a fun accent in the room instead of a neutral colour.
With Mirrors
Sliding door wardrobes with mirrors have become increasingly popular. While the sides and interior are made from solid wood, the sliding panels are made of mirrors. In addition to having slimmer, lighter panels, the mirrors eliminate the need of a full length one and saves floor space. There are many options available when choosing a wardrobe with mirrors. Some models come with a single mirror panel, while others have two or more. A long wardrobe with multiple mirrors can even add the illusion of more space in your bedroom.
For Organisation
Shoppers should always have an idea of what they want to store in the wardrobe before making a purchase. The necessary layout of the interior depends on whether or not space is needed to hang clothes or store small articles in drawers. Wardrobes with adjustable shelves can help accommodate larger items, such as TVs or tall jewellery boxes. Decorators who use an armoire for TVs and other electronics need to check to see there are holes for running wires; if not, they will have to be drilled. Some people rely on wardrobes to organise all their clothes and therefore need a combination of hanging space, shelves, and drawers. If the wardrobe is expected to store sheets, towels, and other linens, then only shallow shelving is sufficient.
How to Buy a Wardrobe with Sliding Doors on eBay
Buying a wardrobe with sliding drawers on eBay is easy if you know what size and style you are looking for. Simply type in "wardrobe sliding doors" in the search bar for a comprehensive look at eBay's offerings. Include keywords to limit the scope of your results; for example, "2 sliding door wardrobe" is a good search, and "2 sliding door wardrobe mirror" is even more specific. To further enhance your results, consult the Search Tips page for more helpful hints.
Custom sort search results by your top priority. Arrange items by lowest to highest price to find eBay's best deals, and shipping costs are factored into the list since freight can drastically increase the price of a wardrobe. To reduce or even eliminate shipping fees, search by distance from seller. If you are searching for a large or high end wardrobe with sliding doors, list results from highest to lowest price.
Before placing a bid or making a purchase, buyers have a bit more information to collect. First, read the entire listing and details to understand the condition it is in. If buying a used wardrobe, determine if there is any damage. Do not hesitate to ask a question to the seller. Find out if the seller has a return policy for wardrobes damaged while being shipped. The final piece of information is about the seller. Only buy from sellers with a high approval ratings and positive feedback.
Conclusion
Before buying a wardrobe with sliding doors, customers should have an idea of the things they wish to store in it to determine the best style and type. Finding the perfect wardrobe for your bedroom requires considering both interior and the exterior. A bar for hanging garments is crucial if you want the wardrobe to function as a second closet. Moreover, shelves and drawers are ideal for organising, making a wardrobe optimal for storing linens, tee-shirts, undergarments, and more.
Sliding doors on wardrobes are a sleek and contemporary take on the classic pull-out drawers. Sliding door wardrobes can pair well with many décors and differently sized bedrooms, and they are perfect for tight, compact places. Remember to measure the space and the wardrobe in order to buy the proper size. Customers can find a plethora of various styles of wardrobes with sliding doors and furniture galleries, community message boards, and online marketplaces such as eBay.