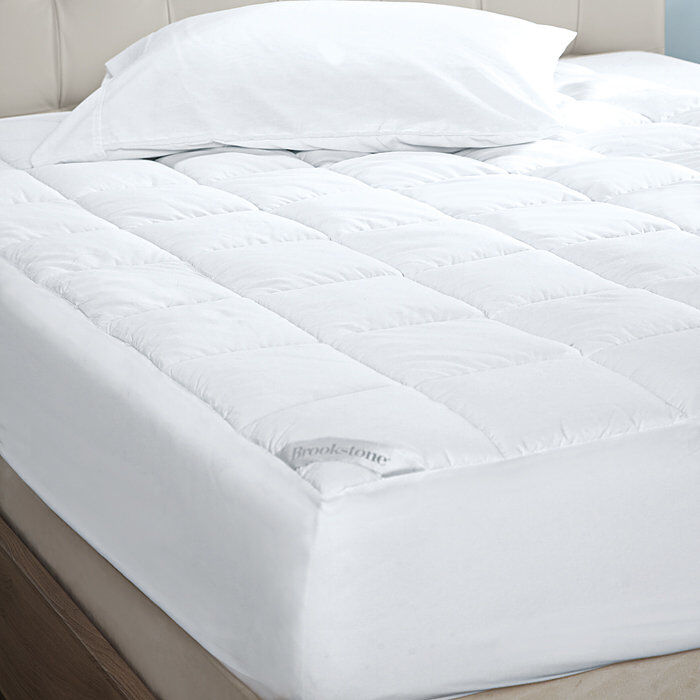 Mattresses are difficult to clean and should never come into contact with moisture. If the mattress is not kept dry then mould and mildew may form. The best way to keep a mattress dry and clean is to cover it with a waterproof mattress protector. Waterproof mattress protectors are a good solution for those who experience bed wetting or who would like an added layer of protection against spills. They not only guard against stains and odours while impeding the entrance of moisture, but they also keep the mattress free from allergens and dust mites. This helps to prevent bacteria growth inside the mattress. In addition, the waterproof mattress protector can help the fitted sheet to stay securely in place.
Traditional waterproof mattress protectors have a plasticy feel and often cause sweating, which is a discomfort to the sleeper. More modern versions are designed to be inconspicuous and offer additional padding. This padding covers the waterproof backing and serves as a barrier between the mattress and the sleeper. Most waterproof mattress protectors have a cotton or Damask cover and polyester waterproof backing. Some may also feature rayon felt or other materials, adding an extra absorbent lining. When buying a waterproof mattress protector at retailers such as eBay, shoppers should consider the various types, the different kinds of material that are used in their construction, and their features. Buyers should also familiarise themselves with waterproof mattress protector sizing and the proper care that they require.
Types of Waterproof Mattress Protector
There are two types of waterproof mattress protector. Those that cover only the top and sides of the mattress, and those that encase the entire mattress, including its underside. Waterproof mattress protectors that cover the top and sides are similar to a fitted sheet. These protectors are generally held securely in place by an elastic band which prevents the protector from slipping off. Waterproof protectors that enclose the entire mattress are slipped over the mattress and then closed with a zip. Deciding which type is best for a sleeper's needs is often a matter of personal preference. Many prefer the ease of removal that partial protectors offer, while protectors that cover the entire mattress offer a better barrier against allergens.
Waterproof mattress protectors made with low quality plastics that go around the entire mattress can be noisy when a person shifts positions. It is best to avoid these protectors for a good night's sleep. Some waterproof mattress protectors offer extra cushioning and support to the sleeper. The degree of padding varies with some being heavily quilted.
Materials for Waterproof Mattress Protectors
Waterproof mattress protectors can be made of a variety of materials. The material often determines the quality of the protector and the price. Inexpensive waterproof mattress protectors may be made from rubberised or plastic materials. These often cause the sleeper to become excessively warm or sweaty. Higher quality protectors are usually made from a synthetic, hypoallergenic material. This is breathable and often more expensive.
Features of Waterproof Mattress Protectors
In addition to preventing the mattress from becoming susceptible to fluids, this bedding also protects against soiling and allergens. Buyers with allergies should consider an allergy control waterproof mattress protector, while those with a firm mattress may benefit from a protector with an added layer of cushioning.
Protection Against Soiling for Waterproof Mattress Protectors
Waterproof mattress protectors not only protect the mattress from urine and other fluids, but also act as a barrier against dirt. Those with complete encasements are also designed to prevent the invasion of bed bugs.
Allergy Control for Waterproof Mattress Protectors
Waterproof mattress protectors can benefit those who suffer from allergies as it limits the sleeper's exposure to the root cause of their sensitivity. Sleepers that are allergic to dust mites or household dust may benefit from this bedding. Dust mites flourish where people live, and thrive on shedded skin. For the best protection against allergens, buyers should opt for a waterproof mattress protector that encases the entire mattress and closes with a zip. For optimum protection, buyers can pair the waterproof mattress protector with an allergy control pillow cover.
Cushioning for Waterproof Mattress Protectors
Waterproof mattress protectors are designed to offer extra cushioning and support to the sleeper. These protectors may be made of all cotton, or a cotton cover with a silk, feather, or synthetic fibre filling. Wool and fleece options are also available. Quilting the waterproof mattress cover helps to hold the filling in place and prevents the occurrence of uneven padding. Some waterproof mattress protectors that offer cushioning are dry clean only.
Measuring for a Waterproof Mattress Protector
Buyers should ensure that they have the correct mattress measurements when purchasing a waterproof mattress protector. The size of the waterproof mattress protector is likely to match that of a standard size bed. Standard mattress sizing is indicated in the chart below.
| Mattress Size | Measurements (cm) |
| --- | --- |
| | 75 x 190 |
| | 90 x 190 |
| | 120 x 190 |
| | 135 x 190 |
| | 150 x 200 |
| | 180 x 200 |
Although mattress sizing may be standard, other factors such as memory foam or pillow top mattresses can alter the depth and change the size of the protector needed. Those buying waterproof mattress protectors for specially sized beds, such as cots, should use products specifically designed for those types of beds. This will ensure that the protector fits properly and will not pose a choking hazard to the child. Buyers should take these extra factors into account when buying a waterproof mattress protector. It is also a good idea to consult a manufacturer's size chart before making a purchase.
Caring for a Waterproof Mattress Protector
Buyers should always cover the waterproof mattress protector with sheets and blankets, as they are often cheaper to replace than the protector itself. Sheets also offer an additional layer of coverage to the mattress and protection against tears, burns, and severe spills. The less the mattress protector is exposed to external elements, the longer it is likely to last. When used in combination with sheets, it also decreases the frequency of washing required for the protector.
Should a spill occur, buyers should clean the waterproof mattress protector immediately to prevent staining. The longer spills are allowed to settle in the material, the more likely a stain will result. A mixture of white vinegar and warm water can help to rid the protector of a potential stain and also acts as a disinfectant. Buyers should always follow the manufacturer's care instructions when laundering a waterproof mattress protector. Most waterproof mattress protectors are machine washable and dryable. However, some may not be able to withstand high levels of heat.
Buying a Waterproof Mattress Protector on eBay
Once you have decided on the type of waterproof mattress protector that you are looking for, the features that you would like the protector to have, and the condition that you want it to be in, you can find a huge selection online at eBay. To shop for waterproof mattress protectors, simply go the homepage, and enter "waterproof mattress protector" into the search box. This gives a wide selection of available products. A more limited selection of search results can be obtained by entering a more specific phrase, such as, "small double waterproof mattress protector".
Before completing any purchase on eBay, ensure that you are satisfied with what you have read in the item description. You also need to factor postage and packaging costs into the final price as well as postal insurance. If you have any questions, then contact the seller directly using the "Ask a question" link. Check the seller by reading the information contained in the "About the Seller" feature. Sellers with consistent positive feedback ratings are recognised by the eBay community for the high levels of customer service they provide.
Conclusion
Mattresses can be quite costly: one unfortunate spill can damage a mattress. So, it is a wise idea to invest in a waterproof mattress protector. Waterproof mattress protectors prevent fluids from penetrating the mattress, so any potential growth of mildew or mould cannot occur in the mattress over time. Waterproof mattress protectors can also act as a barrier against allergens and irritants such as bed bugs and dust mites. A partial mattress protector, while protecting against stains from sweat and spills, does not have the capability to control allergies to the same extent as a protector that encases the entire mattress.
Buyers must also consider the material of the waterproof mattress protector. High quality material is more expensive, but better limits the noise made by the rustling of cheap protector material. Most waterproof mattress protectors are available in standard sizes, designed to match the mattress size. Buyers should maximise the life of their mattress by investing in an easy to care for waterproof mattress protector. eBay is a great place to shop as the site offers competitive pricing and a wide variety of waterproof mattress protectors to fit a buyer's budget and requirements.