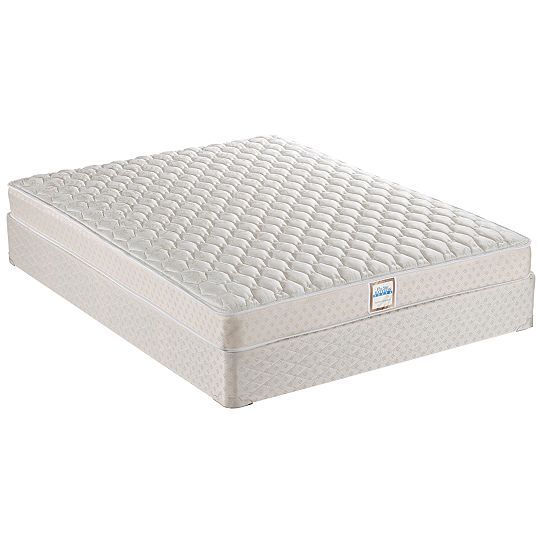 Sleep is vital to everybody as it helps the body and mind to recover before facing a new day and, therefore, it is important to ensure that you get sufficient quality sleep every night. To help you get a good night's sleep, the choice of the mattress is very important. Even when budget is a main concern and you are looking for affordable mattresses, you should find a good mattress that is comfortable and offers proper support for your back. Although good quality ones can cost quite a bit, there are many types of affordable mattresses on the market if you know how to look for them.
Fortunately, even affordable mattresses can be comfortable and provide proper support for your back, allowing you to enjoy good quality sleep. Before you purchase a mattress, you should learn about the different types of affordable mattresses and how to choose one to suit your needs, including from eBay, in order to make a wise investment.
Parts of a Mattress
Knowing the different parts of a mattress can help you evaluate its quality versus price and decide if it is affordable and also right for your needs. A mattress has three main components which are the core, the ticking, and the top padding, also known as the topper.
Component of Mattress

Description

Material

Core

Inner part

Determines type of mattress

Spring

Foam

Water

Air, etc.

Ticking

Middle, intermediate part

Covers the core

Cotton

Wool

Cotton-polyester blend

Vinyl

Top Padding

Outer part

Usually foam or the same as ticking
The main component of a mattress is its core, which is usually made of foam or coil springs. The materials from which each component are made of determine not only how comfortable a mattress is but also its price and hence how affordable it is for the buyer.
Types of Affordable Mattresses
Mattresses come in numerous types, ranging from cheaper basic ones to very expensive ones which incorporate more advanced technologies. However, in the end it comes down to whether the mattress is suitable for you. Mattresses used to be made with sewn fabric stuffed with cotton, wool, and even feathers. Now, they often have springs or foam, although cotton and wool are still used for making some mattresses. It is important to know the different types of mattresses available and their main features so that you can choose wisely when looking for an affordable mattress.
Coil Spring Mattress
A coil spring mattress, also known as an innerspring mattress is among the least expensive mattresses on the market. These mattresses have been in production for almost a hundred years and are probably the most bought mattresses in the modern world. They are constructed with a number of springs in the core which can differ by numbers and arrangement. Although the springs are the main component which gives you support when you sleep, most of the comfort depends on the top padding of the mattress. To purchase an innerspring mattress, you should look at the construction and durability of the top padding, besides only determining the arrangement of the springs.
Foam Mattress
Foam mattress are quickly gaining popularity as they offer a better support for the spine than coil spring mattresses. The main types of foam mattresses are the latex foam and the memory foam mattress. They do not have any spring coils in their core; instead, they use thick layers of foam to support one"s body weight.
A latex foam mattress has a core made of latex foam, which is a material derived from rubber. It is comfortable because it retains a mould of your body shape when you sleep, offering proper support, and is a very good option for people with back problems. Latex foam is also breathable and hypoallergenic so it also makes a good choice for people prone to allergies.
Memory foam mattresses are similar to those made of latex foam. They also retain a mould of your body when you sleep and offer good support to your back. This mattress is made of synthetic viscoelastic polyurethane foam, which, although makes the mattress very comfortable, is not as breathable as a latex foam mattress. This means that one can feel uncomfortable sleeping on it especially on hot summer nights. Both the latex and memory foam mattress cost more than coil spring mattresses, but you can still find cheap ones if you look hard enough or if you do not mind purchasing a used one.
Air Mattress
Besides coil spring mattresses, air mattresses are also among the cheapest mattresses you can buy. You might think that air mattresses are only suitable for camping, but there are actually various types of high-end air mattresses which can be used regularly. Just as its name suggests, the air mattress uses air to support your body. If you buy the right one, an air mattress can do wonders for your back. However, you should not get a cheap camping air mattress unless budget is your main concern because they are not comfortable to sleep on every day. Good quality air mattresses may have multiple air chambers to provide better support or even have memory foam top paddings.
Futon Mattress
Another type of affordable mattress is the futon mattress. Originally used in Japan, the futon has become popular around the world. Although it is traditionally used only as a mattress to sleep on, western futons are often multi purpose and can be used as sofas as well.
Futon mattresses are basic mattresses which have the stuffing made of cotton, wool, or other synthetic materials. Advancements in mattress producing technology have enabled futons to be very comfortable and soft even with prolonged use and repeated folding. There are many kinds of futon mattresses including cotton-polyester, cotton-foam, and even innerspring varieties. This type of mattress is very comfortable and affordable choice as cotton-polyester and cotton-foam futons are able to remain soft without sagging, which means that they can last long. Innerspring futons, on the other hand, are heavier and more expensive than the other types.
How to Choose a Good Affordable Mattress
When buying an affordable mattress, it is important to decide on what type of mattress you would like to buy according to the size if your bed frame. Generally, futon and basic air mattresses are the least expensive, followed closely by coil spring mattresses, and then foam and higher-end air mattresses. You should always look at different mattresses so you can compare the features and prices. Also, remember that the bigger the mattress, the more expensive it can be.
To save money on the long term, consider buying mattresses and bed frames separately rather than buying tall mattresses which resemble a full bed and which are more expensive than low ones. As it is crucial to have a mattress which can offer proper support to your back, you should replace it with a new one every five years or so. Therefore, it may be a good idea to buy a separate high-quality bed frame that can last longer so that you can replace the mattress when necessary. This way you can buy a cheap mattress that you can replace once it becomes worn out.
Whenever possible, you should try the mattress before buying it. Not all mattresses are suitable for you so laying down on one at the shop can help you choose a comfortable one. Your mattress should also have a trial period so you can return it if it is not comfortable. The usual trial period for a mattress is 30 days.
Buying an Affordable Mattress on eBay
eBay has many types of affordable mattresses on sale from various vendors. To search for a suitable mattress, you can start at the eBay home page by looking up a certain keyword, for example "budget mattress". By typing the keyword into the search bar on the home page, a list of all budget mattresses appear and you can go through the list to find one that you like. You can also make your search more specific by typing in relevant keywords such as "double futon mattress". When looking through the list, read the description of the product, including its size, type, and condition (used or new).
After you have selected a mattress that you like, you should read all its details, including the condition, price, and return policy. A return policy is important when buying a mattress as it allows you to return the item if there is anything wrong with it, if it does not fit your bed frame, or if it is uncomfortable.
Conclusion
Before buying a mattress, you should decide on the size, type, and price range. It is possible to get an affordable mattress as long as you do not go over your budget and know how to search for one. The least expensive mattresses available are futons and innerspring mattresses, besides camping air mattresses.
Usually, bigger mattresses cost more, so there is no point in purchasing a king sized mattress if you are on a tight budget. If possible, before buying one, you should try it by laying down on it to see how it feels. If the mattress is not comfortable to lay down on, do not buy it as it will only give you sleepless nights. Lastly, you should make sure that your mattress has a return policy or trial period so you can return it if it is not comfortable enough for you. eBay has a large a selection of mattresses at affordable prices so you are likely to find the perfect one for your needs.