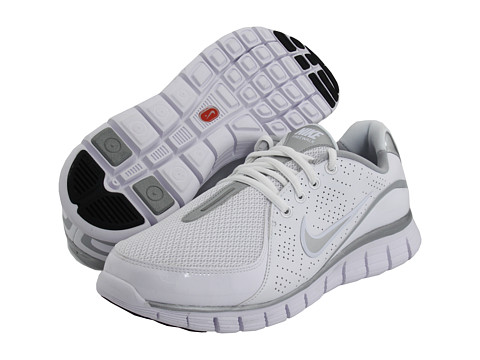 As one shoe does not fit all, there is not one superior shoe for all walkers. The best walking shoes depend upon foot structure, walking style, and stride length. Manufacturers take these elements into consideration, as well as whether walkers have neutral feet. Heavy walkers require different walking shoes than walkers of average weight. The distance, terrain, and walking surface also play a role in buying trainers for walking. Walkers who compete in high profile events, such as marathons, require different trainers than walkers who take leisurely strolls through the neighbourhood.
Walkers can find the best trainers for walking at athletic footwear shops and large department stores that feature an extensive men's shoes section. Men can also shop for walking trainers online, preferably at the leading online auction site, eBay, where they can find a whole list of used fashion pieces including used trainers. However, before they shop for training shoes, men should learn about the types of walking trainers, the common features of the best trainers, and review the list of the best trainers for walking.
What Are Trainers?
Trainers for walking possess unique shoe features that protect walkers against the stresses caused by their feet striking the ground and rolling sideways on uneven surfaces. The science behind creating walker training shoes is different than the science used to make running trainers. Running trainers incorporate features that are for forward and backward movements, while walking trainers have features that protect the feet and ankles against sideway movements. Trainers for walking are designed for the serious walker who follows a daily walking regimen that encompasses long distances.
Factors to Consider for Buying the Best Trainers for Walking
The fact that all feet are not created equal means walkers need to analyse their walking styles. Each of the following factors determines which type of training shoes walkers should buy.
Overpronation
Overpronation can cause serious injuries if walkers either do not realise they have it or refuse to do anything to correct the problem. Overpronators possess a stride that causes than ankle to roll more than it should during each step. Most feet roll slightly inward, but quickly correct by reversing the roll outward. Overpronators experience rolling that does not correct, and thus, additional stress is placed on the feet, ankle, and leg. Walkers who do not protect against overpronation can cause bone damage and strain ankle and foot tendons.
Supination
Supination is the exact opposite of overpronation, which means there is insufficient inward rolling feet after they land on hard surfaces. Extra stress is placed on the feet, which can result in iliotibial band syndrome for the knees, Achilles, tendinitis, and plantar fascitis. Walkers can detect if they have feet supination when the entire outside of their walking shoes begin to wear. To compensate, walkers should buy trainers that have curved lasts that encourage pronation.
Types of Trainers for Walking
The types of trainers for walking vary by the purpose of wearing each training shoe. Walkers need to make an accurate assessment of their feet before choosing any of the four primary types of trainers for walking.
Motion Control Shoes
Of all the types of walker training shoes, motion control shoes are constructed with the heaviest and most rigid materials. This type of shoe is designed to correct overpronation and protect heavier people against foot stresses. Motion control shoes are built on a straight last that holds a dual density midsole. The heavy materials used to construct motion control shoes provide rugged durability.
Light Performance Training Shoes
Constructed for people who have neutral feet, light performance training shoes provide a high level of user flexibility. Walkers can train on flat, hard surfaces, or soft, natural surfaces. The lightweight construction of these shoes allow walkers to achieve higher speeds and better performances. Light performance training shoes do not possess enough cushion to support longer walks and they tend to wear out faster for heavy set walkers; however, walkers who compete in short races typically choose light performance training shoes.
Stability Shoes
Consider stability shoes as hybrid shoes, which means they provide more flexibility than motion control walking shoes and more support than light performance training shoes. Manufacturers construct this type of shoe on a semi-curved last that may include a dual density midsole for extra support. Because of the hybrid nature, stability shoes are the preferred shoe type for recreational walkers and walkers of average weight.
Cushioned Shoes
Cushioned shoes are made with the softest midsoles, which make this shoe type very flexible over rugged terrain. However, cushioned training shoes provide the least amount of arch and heel support of the four major trainers for walking. These shoes are for walkers who do not require additional foot support. Some walkers buy cushioned shoes for their flexibility and then add shoe padding to increase the shoe's support capability.
Features of the Best Trainers for Walking
The best trainers for walking offer similar features that protect the feet and provide incomparable longevity. Walkers should look for these features if they buy walking trainers online or ask a shoe specialist about trainers that possess the following features.
| Feature | Description |
| --- | --- |
| Collar | Soft material that sits above the heel to prevent Achilles tendon injuries |
| Heel Counter | Stabilises heel to prevent excessive movement |
| Upper | Should be constructed with moisture-absorbent materials |
| Toe Box | Protects toes from fallen objects, but provides enough toe wriggle room |
| Midsole | Primary shock absorbing section of trainers. Becomes ineffective after long-term use |
| External Stabiliser | Gives the heel extra cushion for walking on rocky or uneven surfaces |
Walkers cannot afford to skimp on trainers for walking. Each of the six prominent features must be present to ensure healthy feet, ankles, and legs.
The Best Trainers for Walking
The best trainers for walking are lightweight, well-balanced, and possess the level of cushion required to absorb the pounding feet and ankles take walking long distances. Walkers who have neutral walking styles should consider one of the following trainers for walking.
Asics Gel-DS Trainer
This trainer shoe for walking has won numerous awards, including the highly coveted Fitness Walking Shoes Readers' Choice Award. It is a lightweight trainer that provides incredible stability, even on gravel surfaces. According to "Runner's World", the Asics Gel-DS men's trainer represents the gold standard for walking trainers.
New Balance 890
New Balance has earned the reputation for constructing highly durable trainers for running and basketball. The New Balance 890 has been designed strictly for walkers, with an ultra light midsole and more than enough cushion. This shoe works best for fast walkers who take short walks of 15 to 30 minutes.
Mizuno Wave Precision
Walkers who want extra spring in their steps should consider the Mizuno Wave Precision men's trainer. The strong support cushion enables walkers to train at long distance that include back country excursions. This shoe earned the gold medal for performance trainers from The Running Network.
Avia Avi-Lite Guidance
This is the only member of the best trainer for walking club that is not purely for walkers who have neutral feet. Avia Avi-Lite Guidance trainer contains both motion control and medial post elements. Yet, the shoe remains lightweight and it has multiple uses, which include walking marathons.
Saucony ProGRID Kinvara
The Saucony ProGRID Kinarva men's trainer nearly approaches that status of being a minimalist walking shoe. It is made with super light materials that provide the feet with freer movement than any of the other best trainers for walking. Walkers should only wear this trainer for walks of six miles or less.
New Balance 1080
Walkers who train for half and full marathons enjoy the comfort and flexibility that comes with the New Balance 1080 men's trainer. It cushions the feet for long distances and the shoe is sized in various widths. Walkers who possess wide feet appreciate the width measurements.
Nike Air Pegasus
The Pegasus comes in three width sizes: narrow, normal, and wide. Nike produces the Pegasus in both men's and women's styles to compensate for foot structure and shape differences. Like many Nike shoe types, the Pegasus provides walkers with extra cushion to absorb pounding and adds a little spring to their steps.
Brooks Pure Flow
Brooks produces trainers for walking for people who require flatter shoes and more rounded heels, which are the design elements that most walkers require. The split-toe design allows walkers to get more of a burst from each step. Walkers who wear the Brooks Pure Flow report that they gain quicker and more powerful strides.
Buying Trainers for Walking on eBay
eBay offers a wide selection of trainers for walking. Men who are avid walkers can find the right type of training shoe on eBay, as long as they know their exact foot sizes. Use eBay's search engine to find sellers who offer "walking trainers". Then, navigate through the search results to find a seller that offers a walking trainer that matches your shopping criteria. To reduce the amount of time that you spend searching on eBay, type specific keywords into the search engine. For instance, type "men's Nike Air Pegasus" or "men's walking trainer shoes" to narrow your search results.
Buy from eBay's Top-Rated Sellers who have established strong reputations for selling superior products at affordable prices. Top-rated sellers typically offer generous return policies that give you enough time to try on and walk in a pair of trainer shoes. Each seller has a product page that includes an enlarged product photograph, as well as information about delivery terms and acceptable payment methods. You can also review the customer feedback that appears on seller product pages. Look for sellers who have received positive feedback over the past year that includes positive feedback for selling men's athletic shoes.
Conclusion
Serious walkers should make the investment in a pair of high-quality walking trainers. These shoes provide the strong support and extra cushion that training shoes provide for walkers who compete in walking events, or need high-quality walking shoes to navigate through long distances and tough terrain. Men who actively walk need to decide which type of walking trainers best meet their needs. To accomplish this, men need to know if they possess neutral feet, or feet prone to either overpronation or supination. Once they find the type of shoe that matches their feet, men can then verify if the training shoes contain the six must-have walking shoe features.
While there is an exclusive list of the best trainers for walking, men should stay abreast of new shoe introductions by reading "Runner's World" and watching The Running Network. Both the magazine and television show devote time and space to walking information. One of the design trends that men should pay attention to is the growing demand for cross training shoes that incorporate many of the features that define walking trainers.