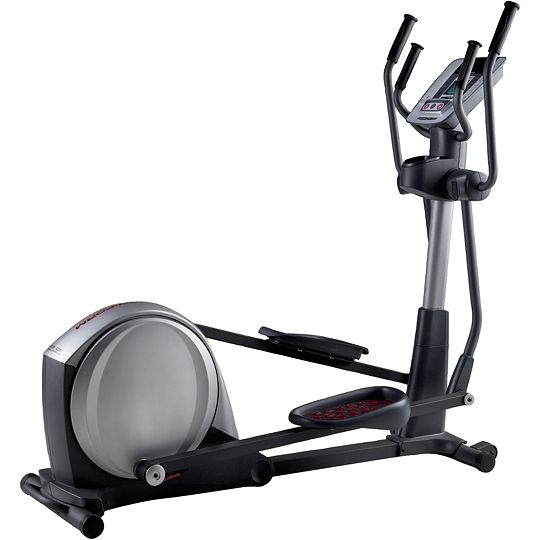 When it comes to low-impact exercise, an elliptical is a great option. Unlike traditional stationary bikes, ellipticals provide a workout for your arms and legs at the same time, and they are a good way to lose weight and get a cardio workout without having to do a high-impact workout. This creates a lower stress experience for you if you have issues with your knees or legs, which do not allow comfortable high-impact exercise. An elliptical goes a bit easier on your body but still provides a workout that helps you lose weight, gain strength, and tone your body.
Ellipticals often have different types of resistance, such as magnetic or air resistance. This can mean the difference between the type of workout you get. An elliptical which offers air resistance means that by pedalling the elliptical at a higher speed, the air causes you to gain more resistance. An elliptical that uses magnetic resistance means that resistance comes mechanically with the use of an electromagnetic current. This type is often less noisy than an air resistance elliptical. Select the right elliptical based on your own physical strengths and weaknesses, your budget, and what type of workout you want from the variety of ellipticals on eBay.
Types of Ellipticals
When it comes to buying an elliptical, each type may offer the same results, but the different machines go about it in different ways. Choosing the right elliptical for you can mean something as simple as wanting less noise that a magnetic resistance elliptical offers, and one which lessens impact on your joints with an easier form of resistance. For people with knee problems, ellipticals are the perfect solution for offering devices that provided good cardiovascular workouts without a lot of pressure on the knees and joints.
Customisable elliptical machines offer you the choice to select between workouts or make up your own workout routine, and they offer adjustable and varying settings of resistance to make your workout simpler or more challenging. Pick an elliptical that offers all the features you want and at the price that is in your budget. Keep in mind that while air resistance ellipticals usually do not need power, digital and magnetic resistance ellipticals do need to be located next to power sources.
Standing Ellipticals
A traditional elliptical offers two forms of popular resistance, either magnetic or air resistance. Hydraulic resistance is also an option, but this type of elliptical can be harder to operate. An older elliptical machine which is standing-only offers a lower body workout, which is similar to the workout that a step machine offers. Instead of using the arms and legs, a traditional standing elliptical only works out the legs. This is still a good workout option, but not as thorough as the cross trainer model is.
A standing elliptical, also called a step machine or stepper, has two poles side by side for you to hold onto while you step, but the poles do not move. If you have arm issues or are not as interested in an arm workout, an elliptical which only has stepping action is still be a good way to work out your lower body using low-impact steps.
Cross Trainers
The most modern and popular type of elliptical machine is the cross trainer. This is the best machine for most people looking for a low-impact workout that gives an all-around great workout for the arms and legs. Select a cross trainer that either offers air or magnetic resistance depending on your preference. Cross training ellipticals range from quite simple models to very sophisticated styles which offer heart rate sensors and monitors, digital displays, many types of resistance levels, and adjustable footplates.
A cross trainer is going to be the best bet for you if you want a low-impact workout for your arms and legs. Picking the right machine simply depends on how much you want to spend, if you have a brand preference, and whether you want the ease and noise-free option of magnetic, digital resistance, or the challenge of air resistance to add more to your workout. Some popular brands are Reebok and Nordic Track. Some higher end models even allow you to customise your own exercise programme.
Elliptical Bikes
One step up from the standard exercise bike is an elliptical bike. It offers the same leg workout that an older stationary bike offers, yet it also offers the added bonus of an arm workout as well. A seated elliptical machine works on your upper and lower body by adding the arm pedalling action as well as resistance to your lower body by using bicycle-pedalling action to get a complete workout.
Elliptical bikes are more efficient at calorie burning than traditional stationary bikes and easily accommodate users who have back issues and who cannot stand for long periods of time to do traditional standing elliptical workouts. Elliptical bikes are also a good option for physically challenged users who want good cardio workouts and all the benefits of cross trainers, without the added strain of standing workouts. Some elliptical bikes offer the users the option of either using the machines as stationary bikes or as ellipticals, which can vary workouts a bit for something different.
Ellipticals for Everyone
When it comes to buying the right elliptical, there are several different kinds. Based on your own body, your needs, and your budget, there is an elliptical that should work best for you. Choose an elliptical that gives you the workout you need without compromising your health or giving you too many aches and pains.
Elliptical Styles

Who It Works For

Price of Elliptical

Traditional Standing Elliptical

People with arm issues who only want a leg workout

Those who enjoy a step workout, but need the bars to provide extra resistance

$

Cross Trainer

Users who want a full body, low-impact workout involving the arms and legs together for a complete cardio experience

$-$$$

Price depends on features of cross trainer

Elliptical Bike

People who prefer to sit while exercising

Physically limited users

Users who want a better workout than a traditional exercise bike gives

$$-$$$$

Air Resistance

People who want more of a challenge and more resistance

Those who do not mind the added noise of air resistance

$-$$

Magnetic Resistance

People who want a more high-tech experience

Users who want a noise-free workout which is smooth and less of a challenge to the body

Offers a more flexible type of workout with different settings which are altered digitally

$$-$$$$
Ellipticals vary, but overall they are a great option for people who hate high-impact exercise, or who have physical limitations and cannot perform high-impact excerise, but still desire the same type of workout that high-impact exercise offer. Choose the right elliptical for you based on your own needs and personal preference when it comes to working out.
How to Buy an Elliptical on eBay
When you are looking for the right elliptical, eBay is the best spot to shop. There are many types of elliptical machines on eBay for much lower prices than you would pay at specialty gym equipment shops, and you may even score a great deal on a gently used elliptical which is still in good condition. Search ellipticals to see the wide selection of machines available, and you can browse by type of resistance, whether it is air or magnetic, or by a brand you like, such as York.
Read the seller's description carefully to make sure you are getting the type of elliptical you want, and click "Ask a Question" to talk to the seller about the elliptical and arrange a personalised pickup for your machine, which can help you bypass shipping costs for a large piece of exercise equipment, such as an elliptical. If you are buying a used elliptical machine, make sure it has all of its parts, is in good condition, and still works properly. Ensure you are getting a first-rate experience by shopping for an elliptical machine on eBay when you conduct business with a merchant who has been given the distinction of being a Top-rated seller, and always check feedback before you buy.
Conclusion
No matter what your physical limitations are, if any, there is an elliptical that can help you reach your fitness goals and burn fat while keeping your body in peak condition without all the aches and pains associated with high-impact aerobic exercise. The great thing about an elliptical is that it is still considered a wonderful cardiovascular workout, without being hard on the areas of your body that may be more sensitive, such as the knees, back, and joints.
An elliptical machine works out your arms, legs, and glutes for a smooth, easy workout which provides amazing results. Get in shape without high-impact workouts and change up the routine when you buy an elliptical that offers different types of programmes and resistance to create new workouts every time you step on your elliptical. Instead of dreading your workout, look forward to it when you purchase the proper elliptical for you on eBay.