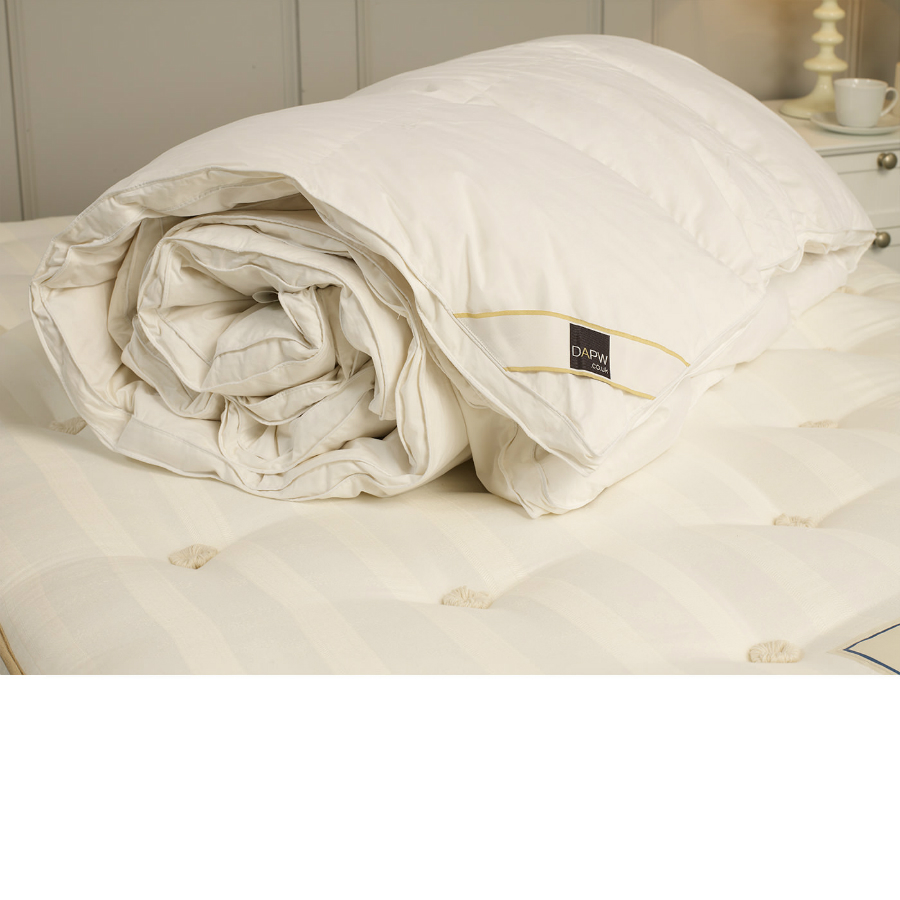 Duvets are large, loosely quilted bed covers traditionally filled with down. Despite their long-standing popularity in continental Europe, they came rather late to the UK. Sir Terence Conran is generally credited as having brought the duvet to Britain. After sleeping under a "Slumberdown quilt" in Sweden in the 1950s, he was inspired to carry these warm and simple products in his own shop, Habitat, which opened in 1964. Because the duvet is usually used with only a bottom sheet and a pillow, it simplifies bed-making into a 10-second process, as Habitat advertised. Duvets are now widely available, and not only in down: wool, silk, and synthetic fillings are also available.
When shopping for a duvet, it is important to find the right size. Duvets that are too small may not provide the right level of warmth, whereas ones that are too large may hang off of the bed or look unwieldy. Therefore, shoppers should measure their bed before duvet shopping, and keep the dimensions on hand. Additional considerations include filling material and warmth level. Purchasing a duvet can be an investment, and quality duvets should last for years or even decades. Informed shoppers will find it easier to pinpoint the right duvet for them.
Measuring Bed Dimensions
With many different bed sizes on the market, taking bed measurements is an important step in the process of finding the right duvet size. Use a measuring tape to measure both the length and width. Duvets are sized to fit on top of the bed, without draping over. If some drape is desired, measure how many centimeters the duvet should hang over the bed's edge, double that number, and add it to the width. For example, if a 5-cm drape is desired, add 10 cm to the width of the bed.
Standard Duvet Sizes
Duvets come in several sizes, each specified for a certain bed size. In some cases, a size may be specified for two bed sizes (single/double, for example). Buyers should take care to note the duvet's exact dimensions and compare them with those of their bed. In addition, they should keep in mind whether they want the duvet to hang slightly over the edge of the bed, or fit exactly on top of it. For shared beds where individuals prefer more coverage, it may be advisable to try buying a duvet that is one size larger than that specified for the bed's measurements.
The following chart outlines duvet sizes for different beds.
| | | | | | |
| --- | --- | --- | --- | --- | --- |
| 120 x 140 cm | 140 x 200 cm | 200 x 200 cm | 225 x 220 cm | 260 x 220 cm | 290 x 235 cm |
Size selection and system depend on the manufacturer. For cot beds or emperor beds, shoppers may have less of a selection. As discussed above, it is important to get the bed's exact proportions, as well, rather than rely on designations like double or king.
Duvet Construction
There are a several options when it comes to duvet construction, each with its own advantages. The different variables determine how the filling is held in place across the duvet, and affect the product's warmth, comfort, and cost.
Box Construction
Duvets with box construction are divided by a series of perpendicular seams into separate squares that hold a certain amount of filling. This construction keeps the filling equally distributed for an even level of warmth. For this reason, box construction is the most common construction for duvets.
Channel Construction
Duvets with channel construction feature several seams that run lengthwise, dividing it into channels. The filling can shift along these channels, which for some may be a disadvantage. However, for those who like a concentration of warmth at their feet, for example, channel construction may be ideal.
Sewn-Through Construction
Sewn-through construction means that the duvet features seams that sew both sides of the shell together. It is durable and more affordable than baffle construction, but may allow feathers to pass through needle holes, resulting in cold spots.
Baffle Construction
As opposed to sewn-through construction, baffle construction features strips of fabric within the duvet itself, acting as walls to keep the feathers in place. The result is the elimination of cold spots and maximum warmth. Baffle construction is important for duvets with a higher tog rating.
Duvet Filling Options
Choosing a filling material for a duvet is a large part of the selection process. Warmth, allergen sensitivity, washability, and comfort are all factors affecting one's decision.
Down and Feathers
Down duvets are made from the soft, fluffy feathers of the undercoating of a goose or duck. Down feathers trap air and wick away moisture for a warm, breathable cover. Goose down is more lightweight than duck down, and goose-down duvets are often regarded as a height of luxurious bedding. In general, down duvets have some mix of down and feathers. Higher-quality duvets have a higher percentage of down.
Down comforters vary in washing instructions. Some require professional cleaning, whereas others are machine-washable. Shoppers should note care instructions when comparing products, and also purchase a duvet cover, which can be easily removed and cleaned.
Down and Feather Sourcing
Some companies that produce down and feather products have ethical sourcing policies that protect animal welfare. This may include sourcing their down and feathers from suppliers who follow a code of conduct, and are prohibited from live-plucking the ducks and geese. Shoppers concerned about this issue can research individual companies to find out more about their sourcing policies.
Wool and Silk
Those who are allergic to feathers but want a natural filling may find wool or silk duvets a good alternative.
Synthetic
There are also synthetic fillings for duvets that can be non-allergenic, lightweight, warm, and easy to care for. These include hollowfibre, a lightweight material made from recycled polyester, and microfibre, whose softness is similar to down's.
Duvet Tog Ratings
A duvet's warmth is measured in togs, or units of thermal resistance. The higher the tog rating, the greater the duvet's ability to trap warm air. One's ideal tog rating depends on several factors, including how warm one's room is, the season, and whether one tends to feel hot or cold while sleeping. The following chart outlines basic ranges of tog ratings, and the recommendations for each level of warmth.
| Tog Rating | Recommendations |
| --- | --- |
| 3 to 4.5 | Lightweight duvet; good for summer or warmer climates |
| 7 to 10.5 | Warm duvets; good for spring and autumn; year-round use in warm bedrooms |
| 10.5 and higher | The warmest duvets; for cooler weather and those who like maximum warmth while sleeping or have cold bedrooms |
Tog ratings apply to down, wool, and synthetic filling. Silk duvets cannot receive a tog rating, because the fill is spun as floss, rather than being loose like down. However, the manufacturer may provide an approximation for comparison.
Some manufacturers make duvets designed to be used year-round. Essentially, they are two duvets, one of a lower and one of a medium tog rating. They can be clipped together for maximum warmth in cold months, or used separately during milder and warm weather.
How to Buy a Duvet on eBay
No matter what size duvet you're looking for, you'll find an extensive collection of new and used items on eBay's online auction website. To begin your search, go to eBay's home page, and type in keywords, such as "king down duvet", into the search bar. You can then refine the search results by entering a price range, selecting whether you're looking for a new or used item, and other limiting factors. eBay has more information on its Search Tips page.
Before Bidding on an Item
There are a few steps you should take before bidding on a duvet, to ensure a positive and secure transaction. Read the product description carefully, noting things like dimensions, filling and shell material, and the seller's return policy. Also note shipping rates, as these are in addition to whatever you bid.
Check the seller's positive feedback rating and look through comments left by previous customers, particularly those who have bought bedding. A high percentage of positive feedback is a good indication the seller is knowledgeable and reliable.
Conclusion
Duvets are a warm, simple form of bedding that can offer the warmth of sheets, blankets, and quilts in one lightweight cover. For these reasons, duvets have enjoyed enduring popularity.
Before shopping for a duvet, buyers should measure their bed's proportions. If they wish the duvet to hang over the sides of the bed, they should also approximate how much overhang they want, and add that to the proportions. Finally, if the bed is shared and partners tend to need more blanket space, they should choose a duvet one size larger than what is recommended for their bed's proportions.
Traditionally, duvets are down-filled, although there are many choices for filling, including wool, silk, and synthetics. Consumers should consider whether the duvet needs to be washed frequently, how much warmth and weight they desire, and any allergies to down. A duvet's ability to trap warmth is measured in togs, with lower ratings like 3 or 3.5 indicating a lightweight cover, and 10.5, 13.5, or higher indicating a toasty duvet.
Informing themselves before shopping for a duvet will help buyers find a comfortable, quality duvet in the right size for them.