How WEEE regulations affect you
Waste Electrical and Electronic Equipment (WEEE) regulations are a part of Extended Producer Responsibility (EPR), and apply to electronics and electrical goods sold to customers in the German market. These regulations exist across Europe to improve waste management and stimulate innovation in recycling.

The German Electrical and Electronic Equipment Act (ElektroG) regulates the placing on the market, taking back, and environmentally responsible disposal of electrical equipment.

If you sell items that are subject to these regulations to German buyers, you'll need to add your WEEE number to your eBay account to comply with EPR regulations in Germany. You can find examples of products that these regulations apply to on our help page.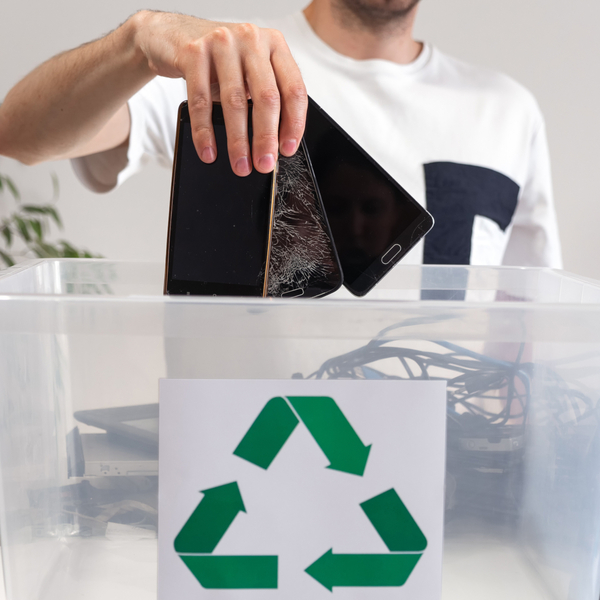 Here's what you need to do
1
If you already have a WEEE number, add it to your account here

From July 2023, we will be legally required to take action on listings that don't comply with the regulations. This will result in them not being displayed on eBay until you've added the WEEE number to your account.

Device types covered by the regulations include:*
You can find more guidelines from Stiftung EAR, on how to identify products in scope for ElektroG.


Temperature exchange equipment:

Fridges, freezers, air conditioning, heating pumps, etc.

Monitors and equipment containing screens (>100cm2): Screens, monitors, TV sets, tablets, etc.
Gas discharge lamps: discharge lamps, fluorescent tubes 
Lamps: LED Lamps (also with additional functions)
Large devices: Dishwashers, washing machines, ovens, electric cookers, vacuum cleaners, etc.
Large solar panels: solar panels with at least one external dimension of more than 50 cm  
Small solar panels: solar panels without external dimension of more than 50 cm 
Small devices: Hair dryers, blenders, shavers, watches, video cameras, etc.
Small IT and telecommunication devices: Smartphones, routers, printers, desktops, etc.
*Please note that these are examples. For a full list, see the EAR website.

Tip
To make things easier, we've partnered with Interzero, who offer a simple solution for WEEE compliance. Their experienced team will be able to provide any guidance you need, and are currently offering eBay sellers a 10% discount* (excluding Stiftung EAR fees). Just use the code 'eBayWEEE10'.
*The voucher is valid until 31.07.2023. This offer is a discount on the net value of services, exclusive of EAR fees. No payout is possible. One voucher redeemable per order and customer. This offer cannot be combined with any other discount campaigns. Subsequent redemption not possible. The legal process is excluded.
FAQs
Who are the Stiftung Elektro-Altgeräte Register (EAR)?
The EAR are a joint body for producers under ElektroG regulations. It has been granted sovereign rights by the German Environment Agency.

I'm not established in Germany, but I sell electrical equipment into the German market. Do I need a WEEE number?
First, check if the products or brands have already been introduced to the German market and registered with the EAR. If they haven't, contact an EAR Authorized Representative to register the brand in the correct EAR Category/Categories and receive a WEEE number.

How do I show I have a WEEE number?
You can add your WEEE number at account level and our systems will automatically add it to your listings.

Do I need special labels?
Equipment covered by the regulations needs to be permanently labeled so that it's clear who has produced it. The crossed out wheelie-bin symbol must be permanently attached. Where this isn't possible, the symbol must be printed on the packaging, the user instructions, or the guarantee certificate.

Is there a 'how to' video on the subject?
Yes, you can watch the video here. Please note that this has been produced by the EAR, not eBay.

I only sell used electronic equipment - do I still have to register?
Does the used electronic equipment come from Germany?
You don't need your individual WEEE registration number if you aren't selling the equipment under your (brand) name. You only need to register with EAR as a vendor and report on the quantities sold.
Does the used electronic equipment that you sell come from abroad? Are you selling them in Germany for the first time?
Then you - as a manufacturer – must apply for your individual WEEE registration number and you will need to add it on your eBay account.
Are there specific FAQs for Online Marketplace on the Stiftung EAR page?
Yes, you can find more information on this page.