Seller standards & metrics explained
Seller standards reward sellers who provide the best customer service.
Seller standards are a way to reward sellers who provide the best customer service. The metrics for deciding seller standard levels are based on what we know will create great selling and buying experiences. If you deliver on your promises and provide fair customer service, you'll join the sellers enjoying the immediate benefits of Above Standard and Top-rated Seller standards. The benefits include increased seller protection as well as heightened visibility across the eBay platform.
eBay Top-rated Seller
As an eBay Top-rated Seller, you are the gold standard of consistent, great customer service in our marketplace. You'll get access to exclusive benefits, such as:
You don't need to register for anything and there's nothing extra to pay - all you need to do is provide excellent customer experience over a period of time.
eBay Top Rated Sellers have the option to add eBay Premium Service. Listings with a Premium Service badge may attract more buyers and boost sales. Benefits of using eBay Premium Service include: Maximum visibility in Best Match search results and a 10% discount on final value fees on eBay.co.uk or eBay.ie.
To qualify for eBay Premium Service, your listings need to:
Offer a free domestic delivery option within 3 working days.
Offer an express delivery option within 2 working days for no more than £10.
For items over £20, all of the delivery services must be designated tracked services and valid tracking must be uploaded within the dispatch time (this includes auction-style listings and Best Offers where the final price is over £20).
Above Standard
If you aren't a Top-rated seller yet, Above Standard is available to sellers providing good customer service and who meet all their promises. Check your seller standards dashboard to see your current seller level and what you could improve on to maintain your standard or qualify for Top-rated seller status. Read the list of  tips on maintaining your seller standard level below to discover how you can maintain or improve your status.
Below Standard
Below Standard sellers experience a decrease in search results visibility across their listings. They may also be subject to selling and listing restrictions and are not able to subscribe to a Featured or Anchor Shop.
If a seller's level becomes Below Standard, they'll find clear, actionable guidance on how to get back on track on their Seller Standards dashboard. In addition to sending a clear status alert, the seller dashboard will provide a detailed overview of why they're not meeting the minimum seller standards.
Seller ratings can fall Below Standard if the transaction defect rate is above 2% or the amount of cases closed without seller resolution is above 0.3%.
If a seller's ratings are above either of these percentages, they've fallen Below Standard. We'll review the seller's overall account standing and policy violation history and we may apply limits or restrictions on the account. Consequences that may apply to Below Standard sellers include additional fees, lower search rankings, restricted access to Promoted Listings, payment holds and selling limits or restrictions (including indefinite selling restrictions). We may also downgrade their eBay Shop to the Basic level if they've been Below Standard for more than 60 days. If this happens, we'll inform the seller by email.
We usually only apply permanent selling restrictions when an account has been evaluated as Below Standard for at least 2 consecutive months. We may, however, take action at any time if we have urgent concerns about an account e.g. if we've detected fraud or if a seller's selling practices pose a threat to the buyer experience. The actions we take will be proportional to the nature of the issue identified and what is reasonably required to protect the interests of all eBay users and eBay as provider of the services.
Tips for sellers to enhance their standard level
Dispatch items within your specified dispatch time.
Manage inventory and keep items well stocked.
To minimise returns, describe your item accurately, including lots of pictures and item specifics in your listing.
Clearly state your return and payment policies in your listing and offer a 30-day returns policy when possible.
Streamline returns using the settings for automatic approvals and refunds.
Stick to your original terms when accepting payment at the end of a successful sale.
Respond promptly and politely to questions from the buyer.
Keep your buyer informed about when the item will be sent.
Issue refunds in a timely manner.
Service metrics
Service metrics display how your business rates compared to your peers on eBay. These metrics can help you reduce after-sale buyer requests, which are time-consuming, costly to service, and often result in refunded sales and Item not received requests:
Item not as described -  you can be charged up to 4% more on Final value fees if you are evaluated as Very High for Item not as described requests.
 
Item not received - extra time may be added to buyer-facing delivery estimates for the shipping categories where you are currently evaluated as Very High for two consecutive evaluations.


If on your evaluation you are rated High or Very High in the Item not received service metric, we will send you a notification email.
For more information please refer to the Service Metric Policy page.
The Service metrics dashboard is an insights tool which provides you with:
Visibility into the number of "Item not as described" returns and "Item not received" requests


Comparison of requests to sellers of similar items by rating your performance against them


Downloadable transaction reports to show which listings are driving after-sales requests
You can learn more about how to monitor your Service metrics here.
Tips to reduce your Item not received rating
So how can you keep your INR rating low and reduce it when it gets too high? There are several ways to do this:
Always use a shipping service that provides tracking regardless of the item cost. This gives greater protection for you and peace of mind for your buyers.


When you've made a sale, upload the tracking number to the sale as soon as possible.


Set achievable handling times you can meet and adjust your handling time during busy seasons or popular promotions
Service metrics explained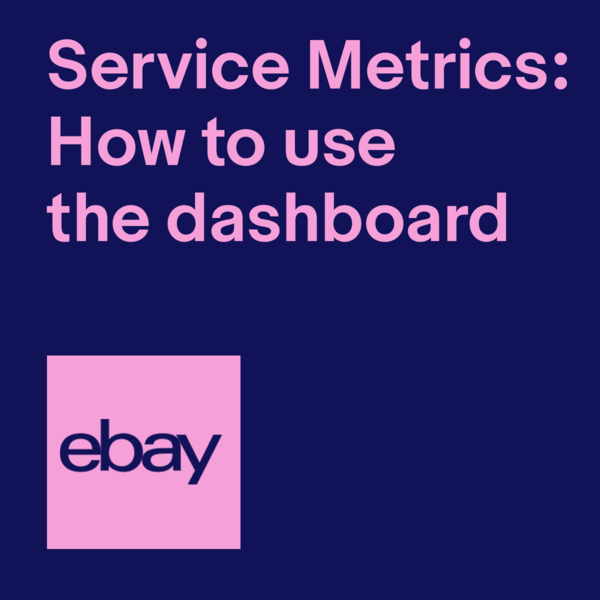 Guidance and tips on INR Service Metrics