Coded coupons
Create and share your own discount codes for buyers.
Did you know?
Approximately 44% of listings transactions featured at least one of our promo tools*
What are coded coupons?
Coded coupons enable you to offer your buyers a discount through a coupon code. Share them publicly on eBay or privately through your own marketing channels.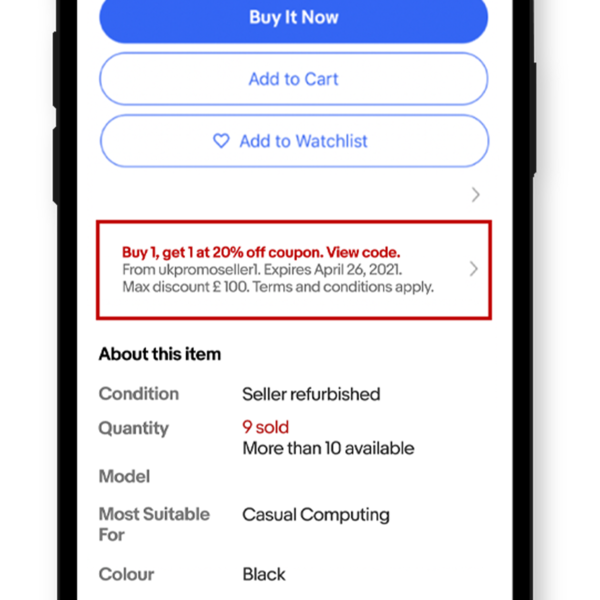 How to use coded coupons
Benefits to you
Offer discounts to your buyers on your own terms 
Build your customer base by printing, sharing and sending coupons
Benefits to your customers
Receive a offer relevant to them
Be rewarded for buying again from sellers they know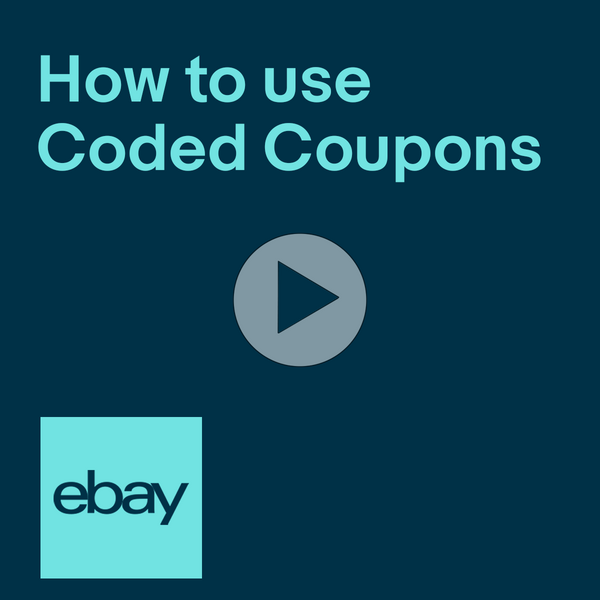 Sharing coupons
Share publicly — on eBay
- Search results page
- On your listing page
- At checkout
Share privately — off eBay
- Print and send a coupon to buyers to incentivise another purchase
- Share your coupon on social media
- Send your coupon code to specific sellers or friends

Print. Share. Send
Create a coupon campaign. Share it with your buyers.
Print
Encourage repeat purchases from your buyers by printing a coupon to add to your packages. Simply select "Print a coded coupon note" from the Seller Hub Orders tab.
Share
Share your coupon codes across other marketing channels and boost your presence online. You can also share your coupons directly from the Seller Hub Marketing tab. Just remember to include a link to our buyer terms and conditions whenever you share your codes.
Send
Send your buyers a private coded coupon directly from our Seller Hub Order tab or using the Buyer group function. 
Tip 
Protect your margins and control your budget by using an expiry date or minimum spend on your coupons.

Share coded coupons on social media
Social media is a powerful entry point to the eBay platform for your prospective buyers. Sharing on social provides the opportunity to further the reach of your items, sales, stores and promotions.
53.6% of the global population are active social media users**
There are 53 million active social media users in the UK***
45% of internet users globally research products on social media**
Reach new buyers: Share coupons through social media to begin long-term engagement with new customers.
Drive repeat purchases: Share coupons to encourage repeat purchases and customer loyalty. You might also persuade customers to come back to your shop if they haven't visited for a while.
Sharing features Captions: Write your own caption or message to accompany your post when sharing.
Shareable link: Each coupon has a shareable link, making posting to other platforms quick and easy.
New features coming soon! Watch this space...
Easy to share
Use the pop-up to share your coupon on social media as soon as you launch.
Share anytime from Seller Hub. Navigate to the 'Actions' column on the Marketing tab and click 'Share' in the drop-down menu.
Share from your dedicated coupon page featuring all items valid with that coupon.
Buyer groups
Use buyer groups to send your coded coupons to specific groups of buyers. Find out more about the benefits of buyer groups and how to create one.
Create and customise your coupon codes
Offer a set price reduction:
YOURBRANDDISCOUNT10
£10 off over £50. Ends 31 May 2022. Ts&Cs apply.
Offer a percentage discount:
20% OFF
Min spend £20. Max discount £40. Ends 30 Sep 2022. Ts&Cs apply.
Make a multi-item offer:
BUY 1 GET 1 HALF-PRICE
Ends 30 Sep 2022. Ts&Cs apply.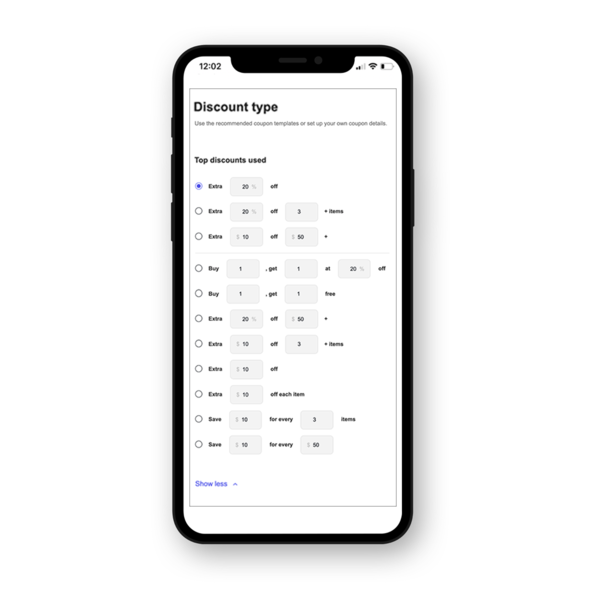 Set-up is easy in Seller Hub
Generate your desired code
2
Set requirements (e.g. type of discount and budget)
3
Pick your inventory and launch
4
***'Digital Trends 2021: Local Headlines Report', p.239, published by Hootsuite/We Are Social, accessed https://www.hootsuite.com/pages/digital-trends-2021 on 01 April 2021.
**'Digital Trends 2021: Global Report', page 8 and 97 respectively, published by Hootsuite/We Are Social, accessed https://www.hootsuite.com/pages/digital-trends-2021 on 01 April 2021.
*eBay internal data, business seller transactions Q1 2021, US, UK, DE, FRITES, seller hub promotions (multi-buy, order discount, sale event, offer to buyer, and best offer).