Millions of active buyers
eBay connects you to a global marketplace.

Know your buyers
When shopping for trading cards, buyers are looking at condition, value, and trust.
Create a winning listing
How to capture the buyer's attention

Refresh your listings with new conditions
Enhance the quality of your new listings and establish trust with your buyers. Here are some improvements to help you best represent your trading cards in new listings.
A refreshed grading system for single trading cards. We've moved from Used to Graded and Ungraded.

●  Graded: Add the relevant grader, numerical grade, and the certification number (recommended).
●  Ungraded: Select the appropriate card condition that best fits the state of the card. Use the tables below for guidance.

This change will affect all single trading cards in the following categories:

●  Sports Memorabilia, Cards & Fan Shop > Sports Trading Cards > Trading Card Singles
●  Collectibles > Non-Sport Trading Cards > Trading Card Singles
●  Toys & Hobbies > Collectible Card Games > CCG Individual Cards


Starting Monday 23 October 2023, you'll be required to use one of our new conditions and their respective condition descriptors when revising your existing listings for single trading cards. In addition, sellers who use the Bulk Listing and Editing tool will also be required to use one of the new conditions and their respective condition descriptors when creating listings via the Relist and Sell Similar flows.

Update now


For sellers using APIs to list, new listings will require the new grading system starting Monday 23 October 2023 and existing listings from Monday 22 January 2024.
Share multiple, clear images
Tips on taking great photos
Use white backdrops to increase visibility.
Turn off the flash. Use soft, diffused lighting.
Include a photo of the back of the card.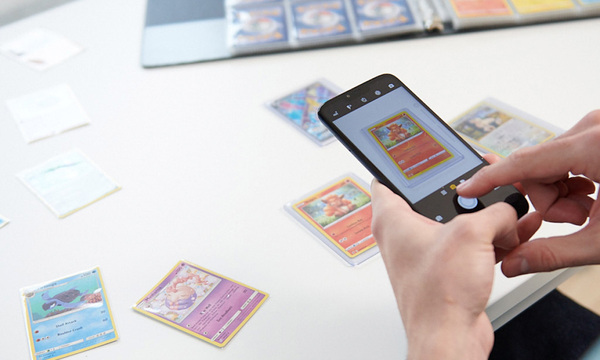 Title the cards correctly
Use relevant keywords in a logical, readable order, including:
Character or card name (Black Lotus, BlitzGreymon, Underworld Breach) 
Card number
Set name (Edition, where relevant)
Special features (Holo, Full Art)
Language (English, Japanese, etc.)
Franchise name
Card condition or grading details
Here's an example: Charizard 4/102 1st Edition Base Set Holo English Pokemon Excellent
Know your card's condition
| | | | | |
| --- | --- | --- | --- | --- |
| | Near Mint or Better | Lightly Played (Excellent) | Moderately Played (Very good) | Heavily Played (Poor) |
| Corners | Minor chipping | Moderate whitening/chipping | Major whitening/chipping | Major whitening/chipping with one or more corners missing |
| Edges | Minor chipping | Moderate whitening/chipping | Major whitening/chipping | Major whitening/chipping with tears possible |
| Discolouration | None | Minor | Moderate | Major |
| Surface Indentations | Minor | Moderate | Moderate to major | Major |
| Creases | None | Minor | Moderate to major | Multiple major creases |
| Scratches/Scuffing | Minor | Moderate | Moderate to major, some slight | Major scratches/scuffing with paper loss, tears, and pinholes |
| Staining | None | Minor | Moderate to major | Major |
Elevate your sales game
The tools you need to level up your business
List cards at the right price based on eBay sold items
Review how similar cards have sold and price yours accordingly.
Help boost sales with Promoted Listings
Reach more buyers to help increase the likelihood of a sale.
Increase conversion with Offers to Buyers
Send offers directly to interested buyers.
Frequently asked questions
How do I ship a card to avoid any damage during transit, and complaints?
To avoid causing damage to your trading cards when posting, be sure to use the right materials to protect them. Here's what we recommend:
1.  Always handle your card with care.
2.  Place your card inside a penny sleeve. These are available to purchase on eBay, which you can find here.
3.  Then place your card into a top loader, also available on eBay here.
4.  To prevent the card from falling out from the top loader, place a piece of paper on top of the card to seal it, and then secure the paper by placing some tape over it. Avoid adding any tape directly over the top otherwise it could touch the card and cause damage. The paper in between will help to avoid this.  
5.  Add the address to the envelope before placing the card inside.
6.  Using a small envelope tends to work well and minimises the card moving around. There are multiple different envelope options such as a wage envelope or a C6 cardboard backed envelope.
For Graded Cards, try using a graded sleeve if possible. You should also use bubble wrap or padded envelopes. Alternatively, you can protect it by placing the Graded Card between some cardboard. 
How do I sell internationally?
Your potential buyers may be abroad. You have the option of posting internationally yourself, and defining your own shipping terms. Alternatively, you can choose to sell via the Global Shipping programme to help reach millions of buyers in over 100 markets around the world. In order to do this, simply send your item to our UK shipping centre, and then once it reaches us, your job is done. For all eligible items, we'll manage the international postage and customs process for you. You can learn more about our Global Shipping Programme here. 
I'm not sure what my card is worth. Can you help?
Yes, eBay can help to evaluate how much your items are worth. Start by searching for the card you're looking to sell on eBay. You can use the card name and number to help you find the one you're looking for. Then use the filters to look at Sold Listings. This will show you the most recent prices that this card sold for. When using this, be sure to only compare your card with the same cards that are in the same condition. The same card with a special effect (holo) and in a better condition will be worth more.
Alternatively, auctions allow buyers to collectively decide what your card is worth as it will go to the highest bidder. Be sure to convey the full value of the card by taking lots of photos and including information in the description. For example, if you don't include a photo of the back of the card, buyers won't be able to assess the condition of the card from the back. This will present a risk for buyers and lower the perceived value, particularly on a valuable card. Whether the back of the card is in great or bad condition, buyers should know about it.