Using promotions to boost your sales
As a business seller on eBay, you can benefit from a selection of tools that can help you grow your sales.
Did you know?
Approximately 44% of the Q1 2021 B2C transactions in EU & US occurred through listings that featured at least one of our promo tools*

Promo Tools
Here's a quick breakdown of each of the tools, where best to use them and which could be a great fit for your inventory.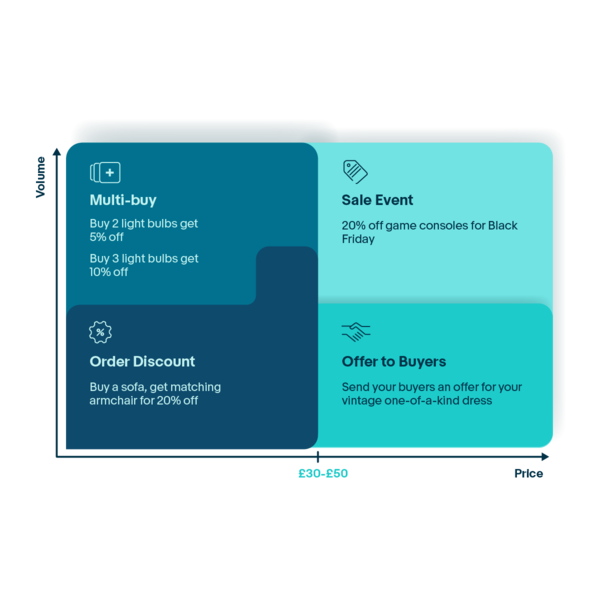 Encourage customers to order more of the same listing with reduced prices for bigger orders.
Promotions Do's and Don'ts
Creating a promotion is the first step, but making sure your offers are optimised and relevant to your customers is what can really help you boost your sales using these tools.
Here are some do's and don'ts to consider when promoting your items:
Do's
Hand pick promotions. Choose items that naturally go together to make promotions relevant to buyers. We suggest grouping similar items together, or items that are complementary, like chairs with a table. 

Time your promotions. Run promotions at times of year that are relevant to your business, such as Spring for garden furniture, sporting events for sports equipment, as well as key retail moments like the festive season and Black Friday.

Monitor and test. Use the promotions dashboard and reports to see how well your promotion is working and to adjust accordingly.

Know your costs. This will allow you to provide a worthwhile discount whilst maintaining a profit.

Know your stock. Discount items where you have high stock levels.
Don'ts
Don't discount randomly. Always consider your costs and your profit margin.
Don't discount rare, one of a kind items that are in high demand.
Don't put your entire inventory into one sale. This can have a detrimental effect on the offer score of all your promotions unless all of the items are complementary.
*eBay internal data, business seller transactions Q1 2021, US, UK, DE, FRITES, seller hub promotions (multi-buy, order discount, sale event, offer to buyer, and best offer).